Dick Cepek Mud Country Tire is an all-terrain tire manufactured by Dick Cepek. Dick Cepek was an adventurous man himself, and his adventures would often require going off-road into more rugged terrains. As an enthusiast, he soon realized that the truck tires manufactured then had a limited off-road performance, which prompted him to develop his tires that would be just right for the kind of environment he was fond of. His passion gradually grew into a globally known brand as one of the leading manufacturers of aftermarket off-road accessories, the Dick Cepek Mud Country Tires. Although the company offers other products, the Dick Cepek tires are quite popular because of the reliability, performance, and quality it offers.
This article aims to give an in-depth review of the Dick Cepek Mud Country tires. The area of focus will include its design features, the technology used, the pros and cons. After the review, we will give an honest rating and final thoughts on why this is among the best off-road tires for adventure seekers.
Deck Cepek Mud Country Tire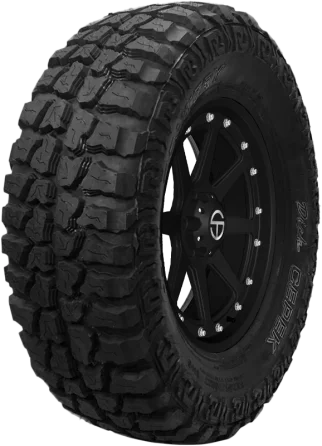 The Deck Cepek Mud Country Tire is designed to deliver excellent maneuverability both on and off-road. It is a light truck tire that will get the job done for most enthusiasts. It has a radial design with perfectly shaped segmented molds cut out with a precision laser. The tire is available in different Rim sizes ranging from 15" to 20" and comes in 31" to 40" sizes.
Features and Design
Some notable features of this tire are;
3-ply sidewalls designed using Cross-ply Technology – this design features reinforced sidewalls that increase the tire's wear resistance and protect it from punctures. It also helps to maintain stability on roads and gives the tire improved towing capabilities. The reinforced steel belt internal structure makes the tire tough and robust.
There are internal steel belts with spiral nylon wrap reinforcement for better performance and handling.
Stepped Tread Blocks – this enhances the self-cleaning ability of the tire. The design ensures that muds, stones, or debris do not get stuck to the tire to hinder its performance. Also, the sipes help to maintain a good grip on smooth surfaces. A combination of stepped thread lugs with sipes improves the overall traction in different conditions. In addition to this, the tires' width also gives it extra traction since there is more surface to surface contact. This makes the Deck Cepek Mud Country Tire an excellent performer in mud, snow, rocks, and wet or slippery surfaces.
DC Side bitters – on the tire's side are the DC trademark side bitters that provide sidewall protection from rocks, better durability, and traction in deep sand or mud.
Specifications
The Deck Cepek Mud Country Tire comes in varied sizes compatible with traditional and specialty light trucks. You will have to check your tire size to make sure you purchase the right size for your truck. Here are some things you may need to know about the tire;
Tire Type – Light Truck Tires
Terrain – All Terrain
Construction Type – Radial
Rating – M+S (Mud and Snow)
Sidewall Marking/Letterage – OWL = Outlined White Letters, BLK = Blackwall or Black Sidewall, DC = DC Sidewall protection
Max Load – up to3,970 pounds
Load Index – up to126
Speed Rating – Q
Weight – Depends on Size
Tire Size – 31" – 40"
Rim/Wheel Diameter – 15" – 20"
Thread Depth – 18/32" – 23/32"
Load Range – C, E, or D
Note: Some details like the Maximum Load, Load range, and maximum speed may vary depending on the tire size you choose.
Types of Off-road Vehicles Fit On
The Dick Cepek Mud Country Tire is an all-terrain tire designed for light trucks and sport utility vehicles. A light truck (LT) or light-duty truck, according to the US classification, is any vehicle that weighs up to 3,860 kg (8,500 pounds) and is capable of carrying a payload that weighs up to 1,815Kg (4,000 pounds). Some examples of light truck and off-road vehicles using this tire include Chevy Colorado, GMC Canyon, Ford Ranger, Jeep Gladiator, Toyota Tacoma, Honda Ridgeline FWD, and AWD, Chevy Silverado/GMC Sierra 1500, Ford F-150, Nissan Titan, Toyota Tundra, and Dodge Dakota, etc.
Range of Sizes
Dick Cepek Mud Country Tire is available in wheel sizes of 15" to 20" and comes in tire sizes ranging from 31" to 40". Each tire comes with a different specification depending on its size. You have to check with your vehicle specifications to know what size will be the best fit for your truck. Here are some examples of Dick Cepek Mud Country Tire sizes;
15" – LT31x10.50R15 109Q OWL C
LT35x12.50R15 113Q OWL C
LT33x12.50R15 108Q OWL C
16" – LT265/75R16 123Q OWL E
LT315/75R16 127Q OWL E
LT285/75R16 122Q OWL D
LT305/70R16 118Q OWL D
17" – LT265/70R17 121Q OWL E
LT35x12.50R17 121Q OWL E
LT33x12.50R17 114Q OWL D
18" – LT305/70R18 126Q OWL E
LT305/60R18 121Q BLK E
LT325/60R18 124N BLK E
20" – LT35x12.50R20 121Q BLK E
LT305/55R20 121Q BLK E
Price Range
Dick Cepek Mud Country Tires comes in different price ranges. The price depends on factors like tire size, wheel size, where the purchase is made, discounts available, and shipping fees if applicable. This tire's average price is estimated to be about 399.40 dollars, with the lowest price projected to be about 170 dollars.
Pros
Excellent on and off-road performance
Mud and snow rated – an excellent choice for temperatures above 7 oC.
Sidewall protection
Self-cleaning capability
Deep and long-lasting threads
Wide footprint for more excellent stability and traction
Designed with the latest triple-ply technology
Cons
Poor performance in extreme winter conditions at a temperature below 7 oC.
From the design, this tire is likely to be noisy on paved roads.
Bonus: Low Profile Off-Road Tires
Ratings
Durability (*****) – Triple-ply technology, reinforced internal steel belt, laser precision molds, deep and wide threads with side bitters all add up to make this tire tough. It is designed to withstand the elements, and we give it a five-star rating for durability.
Comfort (*****) – A wide footprint and spiral Nylon wraps improve stability and handling in all terrains.
Noise – (***) – Unfortunately, features like broad shoulders, wide gaps between tread blocks, and uniformly designed threads, which improves traction, may also increase the noise generated. A narrower design generates less noise than a complete design, seen on the Dick Cepek Mud Country tire.
Dry Performance (*****) – This tire shows excellent performance in dry conditions, with good traction.
Wet Performance (*****) – Sipes on the tire help improve handling and traction on wet and smooth surfaces.
Handling (*****) – Its wide footprint and traction-rich features make it easy to handle on and off-road.
Snow performance (*****) – This tire has an M+S rating, which means it works well on snow like it would on the road.
Ice performance (**) – Despite showing outstanding performance in snow, the Dick Cepek Mud Country tire will likely not perform so well on ice as the temperature is well below 7℃.
Final Thoughts
The Dick Cepek Mud Country tire is a good contender amongst off-road tires. It combines good handling characteristics with an armor-like exterior that offers extra protection. This makes it great for applications that involve much friction like towing. Additionally, it comes in different sizes, so you're sure to find a size that fits your truck or SUV. From this review, you would see that this tire has no limit on off-road performance. It can handle nearly anything you throw at it except for daily application in extremely cold (below 7 oC) conditions. Apart from this and the possible noisy experience you may have on paved roads, this is a great choice for your off-road adventure.
Read more: Aplus Tires Review 2021