Off-Road Recovery Gear And What You Should Know
Getting off the road and onto the trails is an adventurous and thrilling activity, but it's important to remember that you're taking your vehicle off the beaten path, which comes with its risks. If you are in tougher terrain it's helpful to be with others and ideally, all of you have some level of recovery equipment in your rigs. Recovery gear is essential to get your vehicle out of tricky situations, such as being stuck in mud, rocks, sand or snow. Here are some tips then we will look at some of the more critical off-road recovery gear;
Considerations When Shopping for Off-Road Recovery Gear
Weight rating: The weight rating is the maximum amount of weight that a piece of recovery gear can handle. It's essential to choose gear that is rated for the weight of your vehicle. Check your vehicle's user manual for its weight to guide you in choosing the right gear.
Quality and Durability: Not all recovery gear is created equal. Opt for high-quality gear that has been tested and proven to be durable. Cheaping out is not something you want to do with recovery gear…ever. Inferior gear made from weak materials may fail when exposed to extreme conditions.
Versatility: The best recovery gear should be versatile and adaptable to different situations, such as winches that can be used for various recovery purposes and vehicle types.
Ease of use: Opt for gear that is easy to use and quick to deploy in emergency situations. If it requires special skills or tools to use, you may end up struggling when you need it the most.
Compatibility: Make sure the gear you choose is compatible with your vehicle and other accessories, such as tow hooks and hitches. Certain equipment is universal but other can be model specific.
Bonus: Aplus Tire Review
Types of Off-Road Recovery Gear
Winches: A winch is an essential piece of recovery gear used to pull a vehicle out when it's stuck. It works by using a motor, cable, and drum to wind the cable around the drum while pulling the vehicle out. Electric winches are the most common, while hydraulic winches are the most powerful.
Recovery and Tow Straps: Straps are used to tow or pull vehicles out of sticky situations. They come in a variety of sizes, materials, and strengths. Tow straps are designed more so to tow a vehicle for a longer distance versus recovery straps which are designed to extract a vehicle from a stuck position.
Jacks: Jacks are essential in situations where you need to raise your vehicle to free it from obstacles such as rocks or mud. There are two types of jacks: bottle jacks and floor jacks. Bottle jacks are preferred for off-road activities, as they are more portable. High Lift Jacks are also a popular choice for off-roading.
Snatch Blocks: Snatch blocks are essential when using a winch, as they help to increase the winch's pulling power. They work by allowing the operator to wrap the rope around the pulley and back to the winch, which effectively
the winch's pulling capacity.
Tree Savers: A tree saver is a must-have piece of gear when off-roading in areas with trees. They are designed to protect the tree when you use a winch to pull your vehicle. A good tree saver is made from non-stretchy material and has a reinforced loop at both ends.
Tire Patch Kit: Of course you should always carry a spare tire but a patch kit for tires is always recommended. You could get a flat in a location that would be difficult or impossible to place your jack the tire kit could be a savior.
Recovery Bag: This is your good old tool tote but is a heavy duty carrier for some essential tools along with the other gear mentioned above. They're typically made of heavy duty nylon and extremely durable.
Gloves: This is the one most folks forget about. Protecting your hands when dealing with this type of equipment is no joke. A good pair of recovery gloves are a must have.
Medical Kit: First-aid is another critical item. Most vehicle kits come well stocked with all the basic items you would want to have so this item is not necessarily off-road specific but should not be overlooked.
Top Off-Road Gear Options
Warn 96805 VR8-S Winch : This electric winch has a 8,000-pound weight rating, making it perfect for large vehicles. It also comes with a wireless remote and a 90-foot winch cable for versatile use.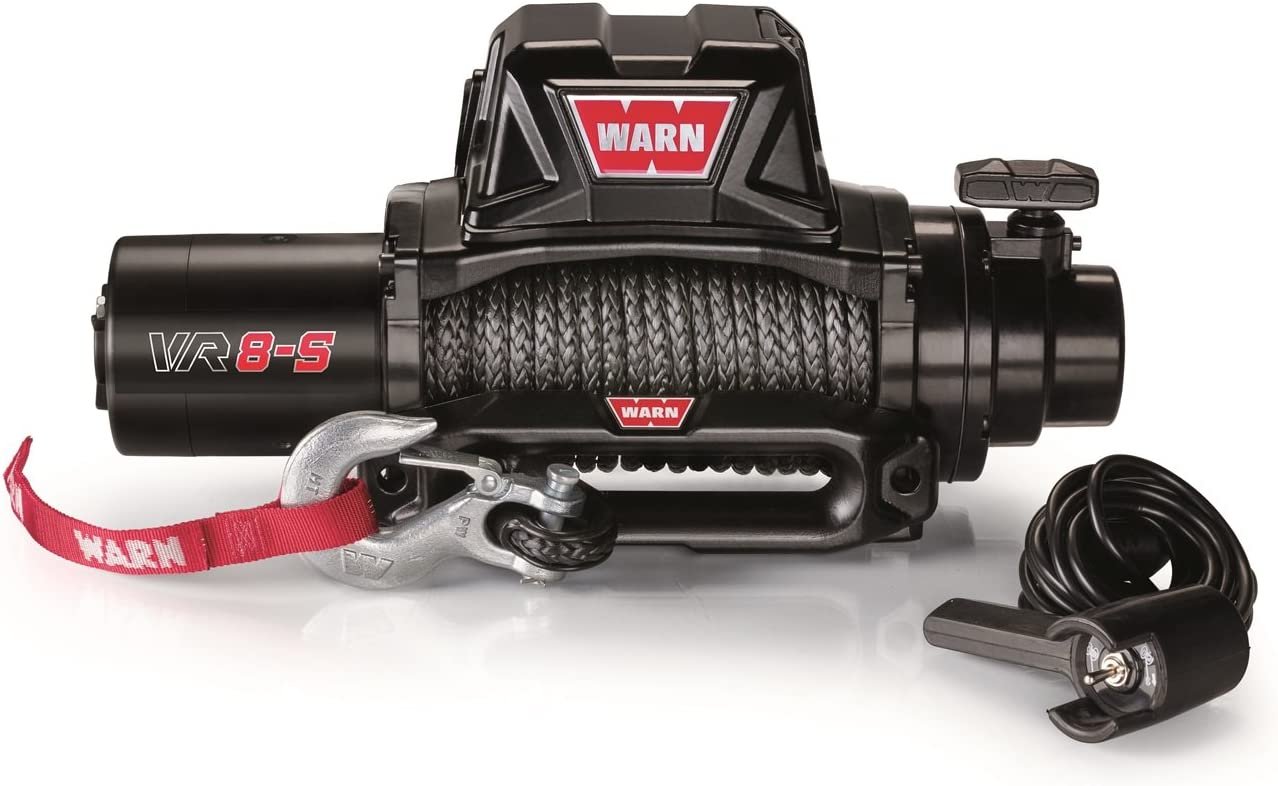 ARB705LB Snatch Strap: This snatch strap is lightweight and easy to use, making it ideal for quick recoveries. It is rated to a minimum breaking strength of 17,500 lbs and is 100% nylon giving it elasticity to aid in recovery and reduce vehicle damage.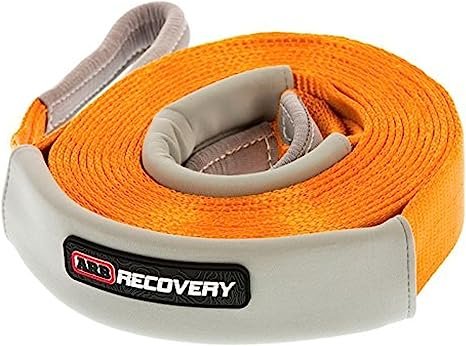 Hi Lift XT-605 X-Treme Jack: This Hi Lift jack has a 60-inch length, making it perfect for larger vehicles with high ground clearance. It's made of durable materials with a rated load capacity of 4,660 lbs.
Neiko 51005A Heavy Duty Tow Strap: This tow strap is made from high-strength polyester webbing and is rated to tow up to 10,000 pounds. It also has reinforced loops with hooks for added strength and durability.
ARB Snatch Block 15,000: This snatch block is made of high-strength materials and has a working load of up to 15,000 pounds, making it compatible with most winches. A must have for winch recoveries.
Warn 92095 Epic Tree Saver Strap: This tree saver strap is made of non-stretchy polyester material and can be wrapped around trees up to 8 feet in circumference. It's also rated to tow up to 14,400 pounds, making it compatible with most vehicles.
Off-Road Boar Tire Repair Kit: This universal 52 piece repair kit is a great addition to your gear kit and can be used on motorcycles to heavy duty trucks.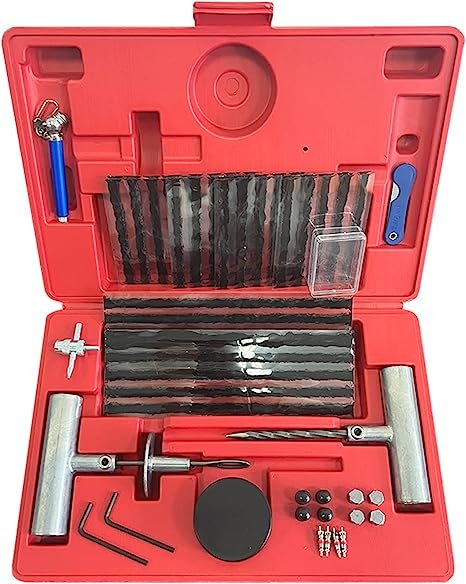 ARB501A Recovery Bag: This heavy duty 100% cotton canvas gear bag has a padded shoulder strap for easy carrying along the trails. Main pocket is removable for easy cleaning.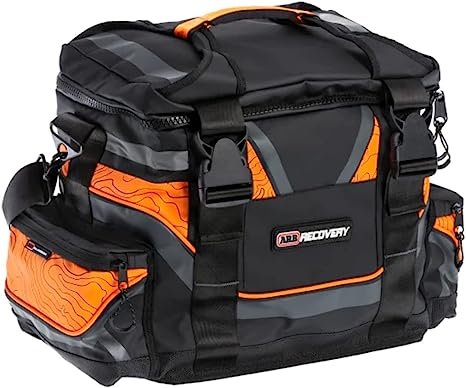 GearAmerica Recovery Gloves: These are designed with recovery in mind with a great grip and protection while not sacrificing comfort. High visibility orange details and ventilated back to help keep cool and reduce perspiration.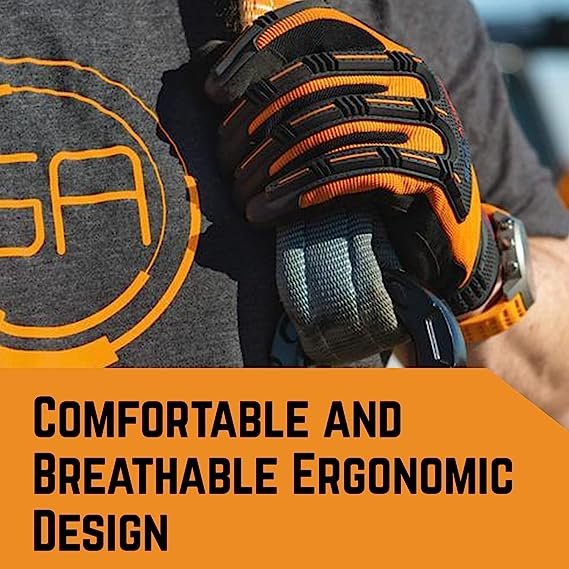 Being prepared in any endeavor can not be overstated but more so when you are on the trails and away from help and supplies. There's no sense in taking a chance on getting stuck out there when there is an abundance of affordable options of recovery equipment available. It's only a matter of time before you are in a situation where some level of recovery will be needed and we have outlined some basics to get your kit started. Feeling lucky isn't preparedness and we hope this helps you start thinking about what your recovery kit should look like. Happy-and safe-trails!