The 5.3 Vortec engine is an efficient engine with excellent functioning and also demonstrates an outstanding fuel economy. Here, you get to know all the most essential details of the engine, along with its specifications and compatibility.
If you are a motor enthusiast with a zeal to rebuild your engine, you get a comprehensive guide on when and where to buy, which continues to the price range of rebuild kits, and what else to expect while rebuilding an engine.
What Is 5.3 Vortec Engine?
The 5.3 Vortec engine is an advanced small-block V-8 engine with excellent power, efficiency, and torque balance. Despite the extraordinary power, the engine displays outstanding refinement along with high strength—the mounting system and its engine cradle help reduce the transmission of vibrations via the chassis. As a result, the passengers experience the quiet operation of the engine. Also, the capability of working on FlexFuel E85, a clean-burning alternative, adds value to this engine.
Engine Design
The design of the 5.3 Vortec engine block is based on GM race program data analyzed using a math-based tool. Highlights of the engine designed using valuable data and its related advantages are as follows.
The cylinder block is light and rigid
The engine's rotating assembly is impressively smooth
Minimal vibrations and maximum strength through deep skirted block design
Bulkheads with six-bolt and cross-bolt to stabilize engines structure
The bearing caps on the bolts limit the crank flex
Powertrain gain more strength from the oil pan structure
Rigid block and rotating assembly display optimal strength with durability
Smooth and quiet operating LMF with a timing chain capable of heavy-duty
Crankshaft and Camshaft connecting chain en suite a dampener of leaf-spring variety and gives 200,000 operational miles.
Cylinder Heads
The high-flow design of the 5.3 Vortec engine cylinder head's intake ports is shaped like a cathedral that helps in promoting excellent airflow. The higher rpm receives generous airflow support allowing broader horsepower, and the low rpm displays strong torque. The cylinder head is made of 356-T6 aluminum alloy and supports high durability plus the load requirements of the truck engine.
Valve Train
The intake valve is 2.000-inch, and the exhaust valve is 1.550-inch, enabling first-rate high-rpm airflow by feeding the mixture into combustion chambers. Its exhaust ports with D-shape also play a significant role in supporting this action.
Camshaft Phasing
Its variable valve position timing helps maximize the engine's performance as this feature optimizes based on conditions and demands. The idling is remarkably smooth as the cam stays in the fully advanced orientation. Similarly, several other phaser positions are determined depending on the condition for delivering optimum performance. The fuel economy is improved along with the driving experience. It can retard timing at high rpm for maximizing the airflow, which increases the horsepower. Likewise, at low rpm, it can increase the torque by advancing the timing. It retards timing when working with light loads for every speed, resulting in saving fuel.
Electronic Throttle Control (ETC)
The advanced ETC means the mechanical link from the body of the throttle to the pedal of the accelerator is not present physically. The engine control module understands the signal from the pedal through a sensor and passes it to the electric motor. The throttle opens based on the pedal angle signal it receives, resulting in an applicable angle and rate.
Quiet Exhaust Manifolds
Along with quiet exhaust operation, the manifolds offer extended durability and improved sealing. Durability is achieved using nodular cast iron, which also serves as a tremendous heat management material. Its heat shield is triple-layer and is manufactured using insulation material and stainless steel. It is easier to achieve optimum temperature as the engine does not give heat to the engine bay due to the heat shield. Once you achieve the required engine compartment temperature, the heat starts reducing.
58x Ignition System
The advanced technology of the position encoder of 58X crankshaft ensures the accurate timing of ignition during the LMF's operation period. When in rotation, the immediate information with high accuracy regarding crankshafts position is rendered by the sensor and ring. Subsequently, the performance and the economy improve owing to the precise ignition timing achieved with the help of the engine control module. You will receive consistent engine start operation in all conditions.
Read more: Best Replacement Engine for 5.4 Triton
5.3 Vortec Engine Specifications
| | |
| --- | --- |
| | Specs |
| Type | 5.3L Gen IV V8 Small Block |
| Horsepower | 355 hp (264 kW) @ 5600 rpm (Chevrolet Silverado) |
| Torque | 382 lb-ft ( 519 Nm ) @ 4100 rpm (Chevrolet Silverado) |
| Engine Orientation | Longitudinal |
| Displacement | 5328cc (325 ci) |
| Compression Ratio | 9.6:1 |
| Valve Configuration | Overhead valves |
| Valve Lifter | Hydraulic roller |
| Fuel Type | Regular unleaded and E85 Flex Fuel |
| Fuel System | Sequential fuel injection |
| Maximum Speed Of Engine | 6000 RPM |
| Bore X Stroke | 96.01 x 92mm |
| Firing order | 1-8-7-2-6-5-4-3 |
| Cylinder Head Material | Cast aluminum |
| Block Material | Cast iron |
| Intake Manifold Material | Composite |
| Connecting Rods, Main Bearing Cap Material | Powder metal |
| Camshaft Material | Hollow steel |
| Crankshaft, Exhaust Manifold Material | Nodular cast iron |
Types Of Off-Road Vehicles That 5.3 Vortec Engine Fits On
The 5.3 Vortec engine is compatible to use with the below-mentioned vehicles.
| | | | | |
| --- | --- | --- | --- | --- |
| Vehicle Build year | Company | Model | Engine | VIN code |
| 2002 – 2007 | Chevrolet | Avalanche Z71 | L59 | Z |
| 2002 -2006 | Chevrolet | Tahoe | L59 | Z |
| 2002 -2006 | GMC | Yukon | L59 | Z |
| 2002 -2006 | Chevrolet | Suburban | L59 | Z |
| 2002 -2006 | GMC | Yukon XL 1500 | L59 | Z |
| 2002 -2007 | Chevrolet | Silverado 1500 | L59 | Z |
| 2002 -2007 | GMC | Sierra 1500 | L59 | Z |
| 2003 – 2005 | Chevrolet | TrailBlazer EXT | LM4 | P |
| 2003 – 2004 | Isuzu | Ascender | LM4 | P |
| 2003 – 2004 | GMC | Envoy XL | LM4 | P |
| 2003 – 2004 | Chevrolet | SSR | LM4 | P |
| 2004 | Buick | Rainer | LM4 | P |
| 2005 – 2007 | Chevrolet | Silverado 1500 4WD | L33 | B |
| 2005 – 2007 | GMC | Sierra 1500 4WD | L33 | B |
When Does The Engine Need To Be Rebuilt?
As the vehicle reaches a particular kilometer mark, the vehicles show wear signs starting from the reduced efficiency of break function to increased throttle vibration. Engines wear off with time and may cause significant issues in the functioning of the vehicle's performance. You must rebuild an engine depending on the condition of the internal parts.
The two main parts that wear off requiring rebuild are:
Piston Rings
Engine Bearings
Piston Rings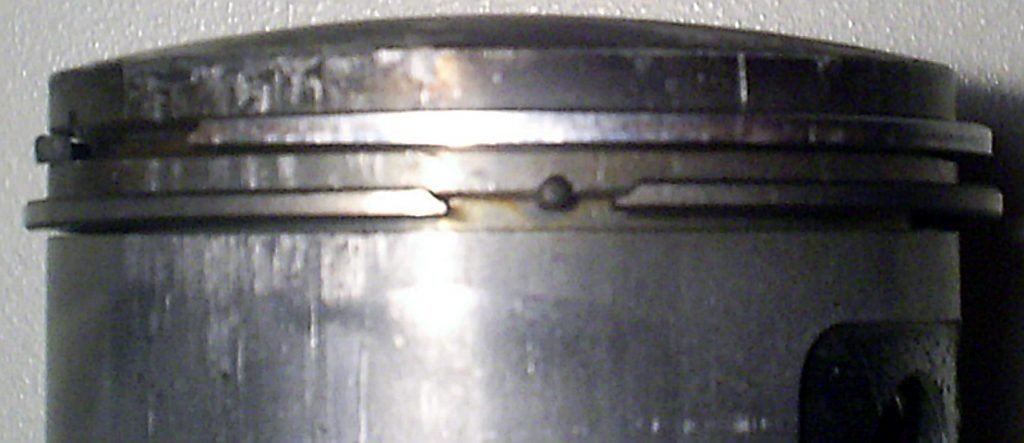 You need to replace piston rings if you find excessive white smoke with oil consumption even though the engine is cold. Gasoline burning creates expanding gases that are sealed inside using the piston rings.
However, when the piston rings wear, they become incapable of sealing the cylinders sufficiently. As a result, the crankcase oil escapes the rings and burns with the fuel mixture present in the cylinder. The combustion gives rise to excessive smoke.
Engine Bearings
Another severe and noteworthy sign is the metal shavings in the engine oil that knock and chatter, indicating the worn-out engine bearings: the pistons, rods, crankshaft, and similar moving parts depending on the bearings for free movement.
Once the bearings serve their lifetime, they wear or if the vehicle is not maintained correctly. Without timely lubrication, they wear quicker. Worn bearings chip off as shavings and interfere with the engine leading to its destruction and failure eventually.
Read more: Jeep 3.6 Firing Order [With Diagram]
How Much Does It Cost To Rebuild The Engine?
Rebuild Service
The below-mentioned manufacturers are offering the rebuild services:
Fraser Engines and Transmissions
Website: https://fraserengineco.com
Fraser Engines and Transmissions have 5 manufacturer plants and 27 distribution centers and offer online quote request provision.
Fraser offers three plans for 5.3L generation 4 engines, namely standard, extended, and recommended options within the $3399 to $4399 price range.
Car Parts
Website: https://www.carparts.com/
Car parts offer a wide range of rebuilt car parts and are in the business for 20 years. They supply customers directly from the factory and offer parts at competitive prices, and their custom network takes care of proper delivery. The four distribution parts are placed strategically in four prominent corners of the country to enable quick delivery to any area. They operate from La Salle, Chesapeake, Las Vegas, Grand Prairie.
They feature single parts to kits and start from $0.37 to $ 4542.95 price range.
Reference: https://www.carparts.com/chevrolet/silverado-1500
Rebuild Kit
For people who want to rebuild the engine by themselves
Identify what the parts you are planning to replace are. As engines come in various sizes and shapes, you need exact measurements of each replacement part for finding the right kit. Along with measurement, keep a note of the number of parts you need for each part type. For instance, the number of pistons can be 4 or 6, depending on the vehicle model. You can quickly decide if you need a minimum set or a high-performance set to rebuild an engine based on your findings. Now check the suppliers' catalogs for the kits that suit your requirement and choose the right kit.
What Is Included In The Rebuild Kit For 5.3 Vortec Engine?
Engine rebuilding improves the performance of the engine.
The rebuild kit must contain at least the new camshaft, cam bearings, piston bearings, piston rings, crank, new valve seals, gear set, double roller timing chain. The gaskets for the valve cover, performance head, water pump, timing gear cover, thermostat housing, intake, and exhaust must be present.
When you need greater performance than the basic rebuild, you need pistons and a new crankshaft with high performance. Besides, the camshaft compatible intake manifold takes the engine to another level.
In short, your engine performance expectation indicates a suitable rebuild kit.
Where Can You Buy The 5.3 Vortec Engine Rebuild Kit?
Rebuild kits are available at various sources such as Amazon, eBay, Partsology, arms racing, and many online websites.
Amazon has the rebuild kits for about $600 and allows you to check if that kit is suitable for your vehicle's make. There are several kits from very few parts to almost all the parts kind of kits. You need to check with patience, verify your vehicle, and cross-check the parts with your measurements.
At Partsology, the manufacturer provides a precise search option to choose even a specific part or kit. You need not waste your money on unwanted parts if a gasket is all you need.
Check Engine Rebuild Kit for Chevrolet HERE
The gasket set and head gasket for LS 5.3 is available for approximately $270 at https://www.amsracing.net.
Check it HERE
Another more elaborate kit is available at the same website online for a price of $780
Check AFM DOD Delete Kit with Choppy Idle Camshaft HERE
Hence, it is impossible to answer the question – "How much does it cost to rebuild a 5.3 Vortec engine?" directly with a single or range of price quotes. It entirely depends on which build and which parts you need to replace.
Things To Remember While Rebuilding
Ensure you keep clean – the area you are working, your tools, and the new parts. As the engine parts fit snugly into each other, even a layer of dirt can interfere and may not function as expected.
Also, clean the engine itself by draining the oil, completely disassembling it, and washing every part with soap to remove the old dirt present. Now reassemble and lubricate with fresh oil at the moving parts.
Now assemble the new parts; you intend to fit the engine using the instructions provided through lubrication in each stage. As you disassemble, if you make a video of it, it will help you reassemble the engine.
With patience and persistence, you can rebuild an engine to improve its performance within no days. Yes, some people do not have that time or interest. They can buy the kit and hire an expert to do it for them.
Read more: What Are The Best Distributors For Chevy 350?
---
Helpful resource:
https://gmauthority.com/blog/gm/gm-engines/lmf/