Driving a Jeep through rough terrain will make you highly appreciate this vehicle's robust strengths. Jeeps provide better visibility thanks to the height advantage, and they are equipped with a plethora of features to keep you safe.
However, when the snow begins to fall and gather, the lingering question of how efficient a Jeep is in the snow resurfaces. Also, there is the debate of which Jeeps are good in the snow.
This article will answer both questions, as well as how fast you can go when your Jeep is in snow mode.
Are Jeeps Good in The Snow?
The simple answer is YES. But why is that so? What are the factors that make them suitable for a drive through the snow? Here are the answers.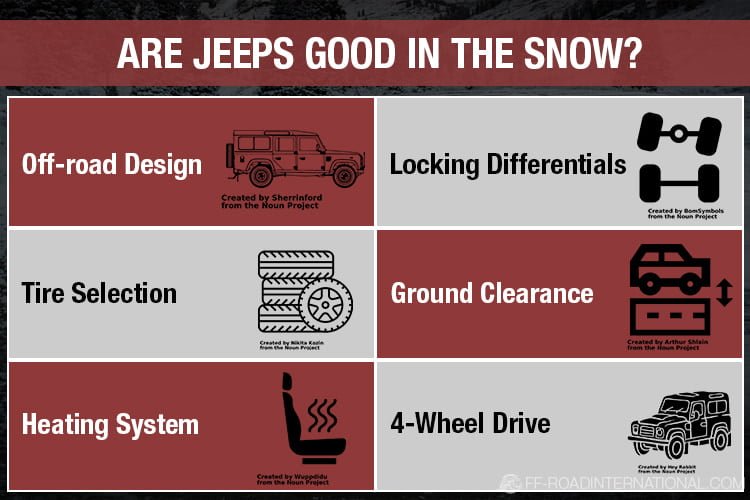 Off-road Design
Jeeps are designed and equipped with features that make them suitable for off-road use. These features include a good interior, good tire selection, good heating system, selectable locking differential, great ground clearance, four-wheel-drive, and large side mirrors.
Tire Selection
Being a popular off-road vehicle, Jeeps come with a perk that is absent in other vehicles. Tires are continually developed to cater to a variety of terrains, including snow. This means that rather than accepting just any tire, you can choose one that's ideal for your terrain and weather condition. It is important to do your research to pick the ideal tire and have a great time in the snow. Best Off-Road Tires For Snow
Heating System
Jeeps and other off-road vehicles are always known for their excellent heating system. This makes them essential for different outdoor climates and those who live in locations that have a lot of snow, therefore, need not worry as they will always be kept warm in the vehicle. The heating process is usually faster than other vehicles, which take a long time to get warm.
Locking Differentials
A manual differential can help you get out of some difficult spots. But this is different with an automatic differential which can be dangerous, especially when making manoeuvrers in the snow and ice.
The locking differential in Jeeps makes it easier to drive through deep snow. Even though they aren't designed for high speeds or tight corners, they provide you with increased traction when driving past the snow.
Ground Clearance
Thanks to large ground clearance, several Jeeps can be driven through deep snow with fewer restrictions. The Jeep Wrangler, for example, has a factory-installed ground clearance of 8.3 inches and above, depending on particular models and trims. A Jeep Grand Cherokee on the other hand, has a clearance of almost 8.6 inches, while the Grand Cherokee Trailhawk has models which go as high as 10.8 inches.
4-Wheel Drive
With more wheels receiving power from the drive system, there is increased traction. This makes four-wheel drive a beneficial option in the snow. Thankfully, most Jeeps can change into 4-wheel drive while in motion provided that the speed does not exceed 45mph. It means that if you find yourself in a difficult situation, a single lever pull will give your vehicle more traction. The greater the traction of your car, the better it'll perform in snowy and other slippery conditions.
Read more: What Do Jeep JK And JL Mean?
Which Jeeps Are Good in The Snow?
The best Jeeps for snow come with unique features to help you drive effectively, even on muddy or slippery roads. Here, we'll talk about four of the best Jeeps you can drive in the snow.
Jeep Wrangler
The Jeep Wrangler is regarded as the best Jeep for snow, thanks to its remarkable on-road and off-road capabilities. It has a 3.9-liter Pentastar V-6 engine, six-speed transmission, and a four-wheel-drive system that makes it much easier to drive in snow. Optional features include a 2-liter turbo-four engine and an eight-speed automatic transmission which provides optimal power and better fuel efficiency. The front and back locking axles, front sway bar, underbody skid plates, and huge off-road tires improve its driving performance in ice, sleet, and snow. The Jeep Wrangler is available in two-door and four-door models, with seating for four and five passengers, respectively.
Jeep Grand Cherokee
With the Jeep Grand Cherokee, you're sure of a high-performance vehicle. It features five engine versions viz. 3.6-liter V-6, 5.7-liter V-8, 3.0-liter turbodiesel, 6.4-liter V-8, and 6.2-liter V-8. These engines may be standard or optional throughout the seven models and eight-speed automatic transmissions like the Wrangler. This vehicle has four-wheel-drive systems called Quadra-Trac and Quadra-Drive, which provide great grip and control on snow-covered roads and terrains, and different mode settings such as snow, mud, auto, sand, and rock, are available for greater driving customization.
The Grand Cherokee also comes with a Quadra-Lift air suspension system. This allows the driver to raise or lower the vehicle as needed to improve the driving experience while also ensuring safety and fuel efficiency.
Jeep Cherokee Trailhawk
The Cherokee Trailhawk is a tough four-wheel-drive vehicle that can handle a wide range of road and terrain conditions. The 3 trim options – 2.4-liter Tigershark MultiAir, 3.2-liter Pentastar V-6, and 2-liter Turbo engines have nine-speed automatic transmissions. When driving through snowy locations, the engines, alongside the 1-inch suspension elevation and underside skid plates, protects it against obstacles.
Additionally, the Cherokee Trailhawk comes with three tow hooks, one behind and two in front. Thanks to the body sealing, you can drive securely across frozen streams without getting wet. Also, there is a snow mode that eliminates wheel spin and reduces the risk of vehicle slippage.
Jeep Renegade
The Jeep Renegade is a capable 4WD vehicle, fit for even the most difficult terrain in adverse weather. There are several engine options available, but the 2.4-liter four-cylinder engine is arguably the finest for winter driving. This model comes with front tow hooks that can pull up to 2,000 pounds and generate 180hp power and 175lb-ft torque.
It has different mode settings such as snow, mud, auto, and sand, and its transmission is a nine-speed automatic. Besides, driver-assist features such as hill hold control, electric parking brake, and a reversing camera are included in the Jeep Renegade.
How Fast Can You Drive in Snow Mode in A Jeep?
You can drive at any speed you want as snow mode does not have a speed limit. It starts from second gear to reduce wheel sliding and improve the balance of power between the four wheels. However, it is important to note that the higher the speed, the harder it is to turn or stop. Don't go too fast on ice or snow, or you may run into dangerous situations.
Conclusion
Vehicles are more vulnerable to slipping and sliding during winter as the tracks are covered with snow. This makes handling difficult. Jeeps, however, are designed to function in tough weather, and they can readily navigate through snow. But keep in mind that good driving conduct is also an essential factor. Whether it is a Jeep, SUV, or compact car, knowing what to do is more important than relying on the vehicle.