The Jeep Gladiator is a do-it-all hard to beat on the trails and the streets. While its out-of-the-box capabilities are fantastic, there's so much you can add to this beast to make it even more capable. One of the ways you can modify it is to have your Jeep Gladiator on 40's.
Jumping up to size 40 inch tires is a big leap and with that leap comes the need to upgrade several other components. Let's see how you can make this mod alongside the needed add-ons so that it's not a handful on the street or a struggle on terrain.
Can You Put the 40's in a Jeep Gladiator Rubicon?
Yes, you can put the 40's in a Jeep Gladiator Rubicon, and while it's not a hard requirement you will want to consider re-gearing to maintain performance both on and off road. The Rubicon has a 4.10 gear ratio transfer case in its Dana 44 axles and you can see recommended gear to tire size in this chart.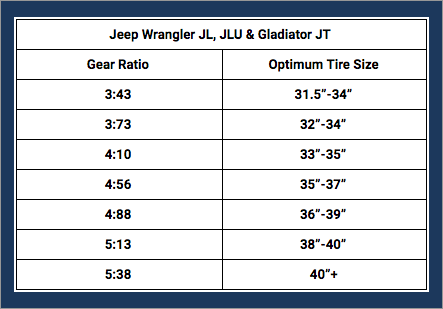 It's best to do this modification on the Rubicon with an automatic transmission. The 8-speed 850RE automatic transmission is stout though some claim the stock gearing is capable of handling this large of a tire you will forfeit power and gas mileage without re-gearing.
Since the Jeep Gladiator Rubicon comes with 33-inch tires, it is not pre-lifted. You can add up to 35-inch tires without lifting. However, getting it on 40's calls for a lift kit and spacers to prevent rubbing.
A typical lift kit from Mopar for Jeep Gladiator Rubicon can give you a minimum of two inches of lift. This is not enough to provide higher ground clearance and improve your suspension with the 40's. Hence, you need a kit that offers at least 3.5 inches of lift.
Typically, you can lift a Jeep Gladiator to four inches high without worrying about getting Mopar Lift Kit Protection plans. Jeep discourages lifting your Gladiator Rubicon more than four inches since it will roughen the ride. However, you can still raise the Gladiator Rubicon by six inches with bump stops appropriately located.
You'll also need robust aftermarket driveshafts to go along with a more efficient long-travel suspension system.
When you're ready to add the 40's to your Gladiator Rubicon, the KMC KM235 and Nitto Trail Grapper wheel and tire package will do an exceptional job on the trails. You may also want to consider a high-quality lift kit like the JT Gladiator 3.5-inch Coil Spring Base Lift Kit.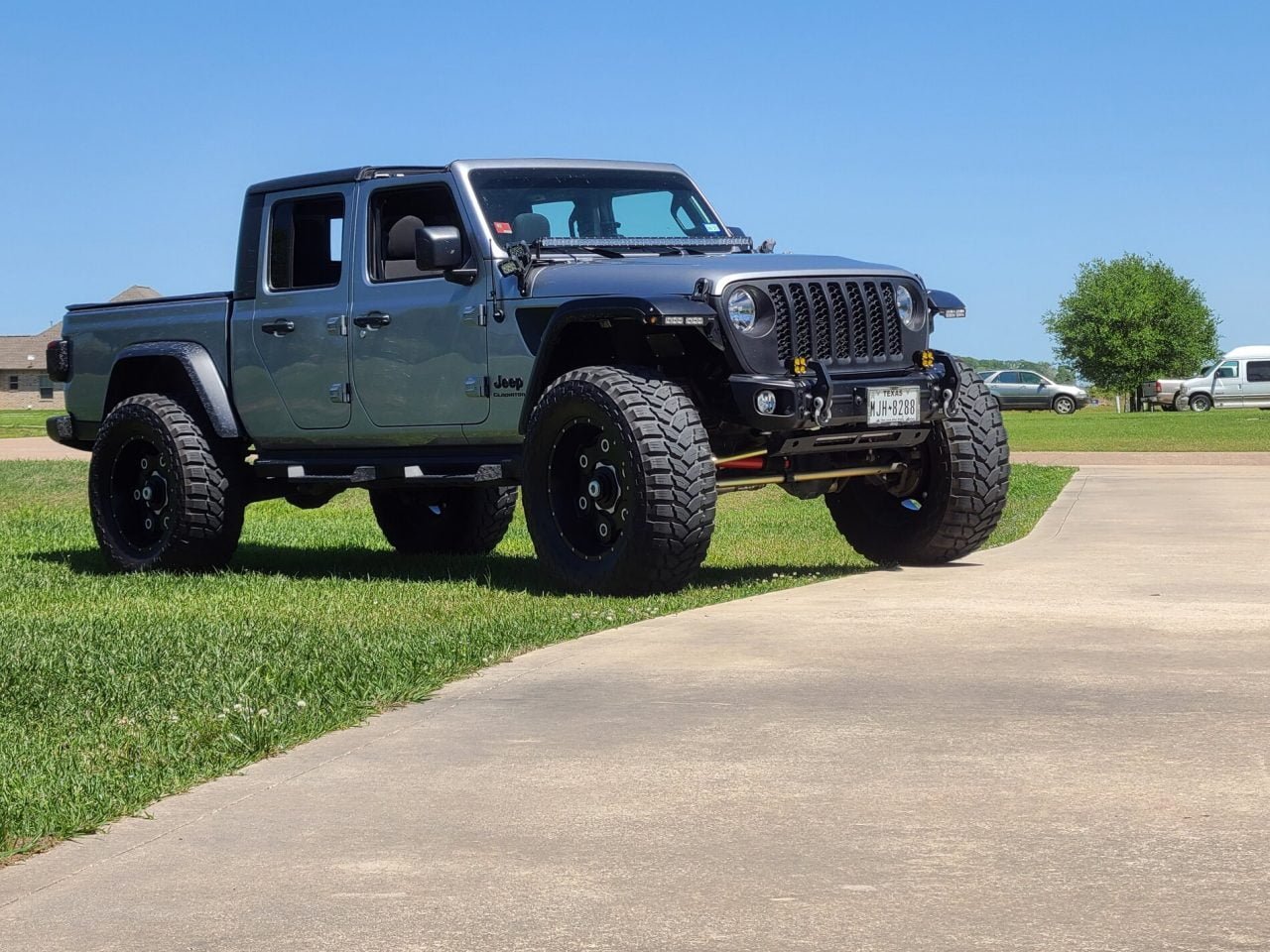 Read more: Jeep Wrangler 3.6L Vs. 3.8L Vs. 4.0L: Which One Is The Best?
Can You Put the 40's in a Jeep Gladiator Sport S?
Yes, adding 40's on a Jeep Gladiator Sport S is doable. Nonetheless, you'll need to take a few precautions. Firstly, go with the Sport S with the max tow package with Rubicon-width axles on the front and rear. This feature can help with large tire fitment like the 40's, but you'll have to stick to the streets.
For the trails, it's best to install UD60's or 1-ton front and rear axles. You can't risk running Rubicon or crate 44 axles and go crawling over rocks. The best are 1-ton axles (the ones you find on heavy-duty SUVs).
With the full-float 1-ton axle, the wheel and tire won't be on the axle shaft, so you don't risk breaking it. If the axle shaft was to break, it's an easy job of unbolting it and getting your Sport S on the 4-wheel drive to the nearest mechanic or junkyard.
Another significant change that you have to make is that you have to re-gear it to a 5.38 or 5.31 gear ratio. Also, you'll need a 3.5-inch lift which you can get with this Rough Country 3.5-inch Suspension Lift Kit. This KMC KM229 and Cooper Discoverer STT Pro wheel and tire package will save you money and hit the trails like a champ.
Other third-party suspension lift kits can give you a 6-inch lift on the Sport S. This is not advisable when you have big heavy tires like the 40s.
Can You Put the 40's in a Jeep Gladiator Sport?
If you're ready to crawl, get in and out of holes, and climb over the roughest terrains, 40-inch tires are perfect for the job. You can add the 40's on your Jeep Gladiator Sport, and the obvious choice here is the Vision Silver and Atturo Trail Blade Boss wheel and tire package.
These tires have exceptional performance on any terrain. It's best to go with the Gladiator Sport with max tow package to get the heavy-duty 44 axles. Then, you can do a minimum of 3-inch lift for low-center gravity.
Still, you can get up to 6.5 inches of lift on a Gladiator Sport, but you'll need to do more modifications for articulation. Hence, stick to a 3-inch lift, get rid of the factory sway bars, and go for anti-rock sway bays.
In addition, you'll need a rounded-off suspension and a high line fender. The PSC hydro assist system for the trails provides excellent steering. However, you may need heavy-duty steering to make the Gladiator Sport easy to handle.
Can You Put the 40's in a Jeep Gladiator Overland?
If you're a hardcore enthusiast looking to put the 40's in a Jeep Gladiator Overland, you're in for more than a few modifications. The Overland model does not have a max tow package, so you have standard Dana 44 front and rear axles.
Get rid of the Dana 44's and upgrade with Dana UD60s for the front and rear. They will come with electronic lockers and 5.38 gears in them. You'll also need a new driveshaft and then start with a 4.5-inch lift, which you can get with EVO Suspension Lift Kit.
As for the wheels, you can't go wrong with the Nitto Trail Grapplers since they are outstanding on just about everything. Whether you want to take on Moab, Utah, or throw in mud and ice, you'll get out of anything with Nitto Trail Grapplers.
If you're a bit of a show-off, it's possible to lift the Gladiator by six inches. However, you will need to add some steps because of the wide wheel wells.
In addition, you'll have to go with full-length arms and coil overs to help the Overland articulate. There's also a need to re-gear and upgrade to 1-ton axles. In my opinion, a 6-inch lift is not something I'd recommend on the Gladiator Overland.
Final Thoughts
You can run the Jeep Gladiator on 40's. Yet, each model needs its ideal set of modifications and precautions to get it right. In addition, it's important to consider where you'll be taking your truck. You can get away with the 40's and Dana 44's on the street, but you may end up with a broken axle shaft if you don't make the right changes to accommodate huge 40-inch tires when the truck bounces and binds on stuff.
Read more: Jeep Gladiator Bolt And Lug Pattern [2019 – 2022]