Everybody knows that Honda has established an enduring legacy in the automobile industry. In 2019, the Japanese company began the production of Utility Terrain Vehicles by releasing the Honda Talon.
The Honda Talon is still a relatively new player in the sport side-by-side UTV category. It boasts of decent off-road performance, long-travel suspension, and a strong 999c parallel twin-engine.
The Talon is a great vehicle. Nevertheless, it is not perfect. People have some complaints about its performance. In this article, we will be discussing some of these problems and other important things to know.
3 Common Problems Of Honda Talon
Let us look at three common issues that consumers might experience with this vehicle: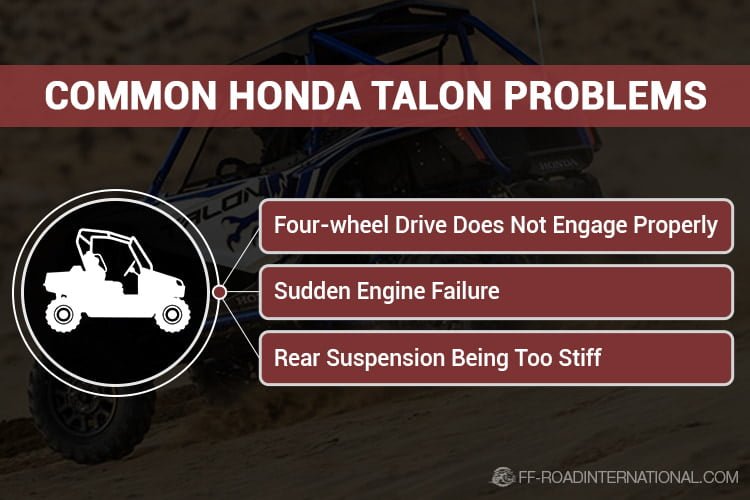 Four-wheel Drive Does Not Engage Properly
This issue is commonly experienced by owners of a number of Honda Talon 1000X-4 Fox live models. Experts say that you have a low chance of experiencing this issue with your Honda UTV, as it is rare.
Honda is yet to find a solution to this four-wheel-drive engagement problem. However, the company is working tirelessly to know the source of this problem and possible solutions.
Let us consider the popular case of a consumer that reported this problem. He discovered that his UTV's drive mode dashboard display began to switch between i4WD and 2WD lock after picking the four-wheel-drive mode (i4WD).
Furthermore, he noticed that the drive indicator system only flashes on 2WD LOCK while going back to 2WD after attempting i4WD. Additionally, things began to work properly when he switched off and reignited the engine.
During this scenario, the individual observed that the front wheels were not receiving power. However, the anterior driveshaft was spinning. The I4WD error light worked only on the occasion when the hill start mechanism was malfunctioning.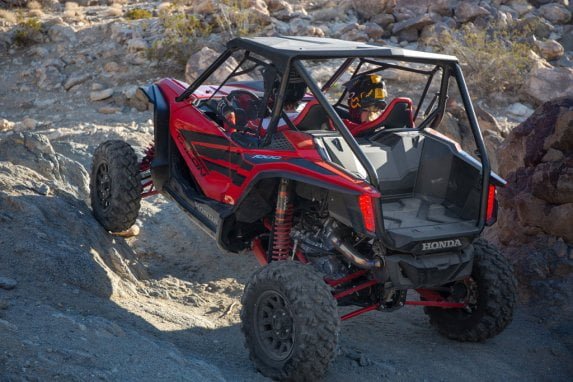 He met with his car dealer, who decided to replace the I4WD switch and other sensors linked to the system. Furthermore, the dealer detached the after-market turn signal kit and examined the electrical circuitry of the UTV. Therefore, the car dealer decided to replace Talon's dash unit. Nevertheless, the front-drive wheel issue remained unsolved.
After a while, Honda asked the consumer to stop trying to fix the problem, in order to avoid further damage to other parts of the vehicle. The company is presently working on the man's car to develop solutions for other consumers. If you are experiencing this, then visit the company's client support.
Sudden Engine Failure
Another big problem with some Talon models is engine failure. A certain customer caught the attention of the company after his engine suddenly malfunctioned on a road trip with his new Talon.
Consequently, he had to return the UTV to the dealer. A factory mistake was responsible for the engine problem.
Errors during the production of Talon UTVs can cause sudden engine failure. In the assembly line, workers can leave a stray bolt in the inlet manifold of the engine by mistake. In some cases, the bolt can move from the cam gear into the main engine and cause it to malfunction.
Read more: How Fast Is 125cc Off-road Vehicle?
Rear Suspension Being Too Stiff
The rear suspension of the Honda Talon has been problematic for some users. A certain consumer shared his experience in 2019 after he drove over 100 miles on his new talon. During the journey, he noticed a very harsh ride and when he looked closer, he realized that all the clickers were positioned on the softest (1) setting.
He also stated that it was dangerous on rough terrain and moving over the place. There is a high probability that the rear suspension problem is due to an error from Honda. Nevertheless, the Japanese auto giants are yet to deliver their remarks.
Another consumer discovered that he had the same problem when the rear suspension of his Talon 1000x became very stiff. Fortunately, this issue is not too difficult to resolve. You only need to buy a new set of rear tender springs and attach it using the steps provided by the manual. But you should talk to your dealer first if you don't know how to perform this adjustment.
Read more: 7.3 Powerstroke Problems: Is It Reliable? [Causes & Solutions]
How Reliable Is The Honda Talon?
Despite its myriad of problems, the Honda Talon is fairly reliable and durable. We all know that Sport side-by-side vehicles need a lot of combustion energy to keep them moving. The Talon's parallel-twin engine provides enough horsepower output and torque, even under low RPM. Nevertheless, anyone who wants to use this UTV should exercise a good maintenance culture.
This involves tuning the shocks and replacing the oil periodically. Observation has shown that the Talon has no difficulty in exceeding 2,500 miles.
Tires
Users talk about how unreliable the tires can be and that it is the most horrible part of the UTV. The Honda Talon 1000 R has a large trailing arm suspension and wheel hubs. Therefore, Honda didn't use the conventional 14-inch wheel. Instead, they opted for the larger 15-inch wheel. Then they made things worse by placing a very small tire on the 15-inch wheel.
This is caused by the absence of sidewall which might be perfect for railing corners but bad in rough places. Several tire sizes have been tried on the Honda UTV, even the 35s. The conclusion is that the optimal tire size for the Honda Talon is 30-31×10-15. However, you must get a wider offset for the back tires if you are buying used wheels.
Shocks
When the Talon broke into the market, people fell in love with the stock fox shocks. They were examined in the dunes and bumpy, rock-strewn region of a park in Utah and they functioned properly.
The triple clicker configuration is also a prominent feature on the Talon. Unfortunately, the stock fox shocks performed below expectations at slow and moderate speeds outside the dunes.
However, when the car was tested under rough off-road conditions, the plush setup was missing. Several tricks exist to fix this problem; your dealer's help will be instrumental.
Protection
This vehicle is shielded by plastic skid plates. However, better protection will be offered if the company used either aluminum or Ultra-high Molecular Weight (UHMW) skid plate beneath the engine at the back of the Talon. Also, the oil pan lies very low; it is close to the rear of the vehicle's frame. Therefore, severe damage can occur if a rock gets into an inappropriate location.
What Is The Top Speed Of A Honda Talon?
The Honda Talon obtains its driving power from a 999cc twin-cylinder 106hp engine. Thankfully, this UTV uses a dual-clutch transmission system which means no belt connects the gearbox and the engine. The result is efficient power transmission to the engine. The highest speed ever recorded on this vehicle is 74MPH.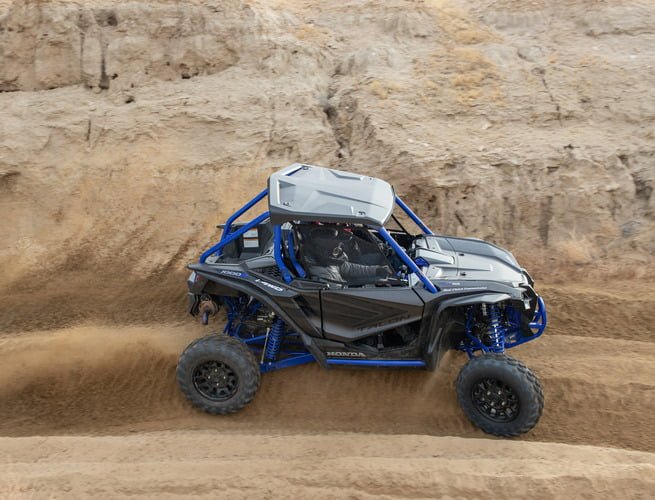 Honda Talon Specifications
Model
1000X-4 FOX live valve
1000R SE
1000R
1000X FOX live valve
1000X-4 SE
1000X-4
1000R FOX Live valve
1000X
Engine
Type: 999cc liquid-cooled, Longitudinal parallel-twin four-stroke system
Valvetrain: Overhead Valve (OHC), four valves per cylinder
Compression ratio: 10.0.1
Induction: Fuel injection, 46mm throttle bottles
Ignition: Full-transistorised
Stroke x bore: 75.15mm x 92.0mm
Driveline: Direct F/R driveshafts
Transmission: Automatic Dual Clutch Transmission (DCT) w/6 speeds + reverse & high/low sub-transmission
Clutch: 2-multiple wet
Starter mechanism: Electric
Suspension
Front
Double wishbone
14.4 in. travel, Fox podium 2.5 shocks w/Live valve
Double wishbone
14.6 in. travel, Fox podium 2.0 shocks w/Quick Switch 3
Double wishbone
14.4 in. travel, fox podium 2.5 shocks w/live valve
Double wishbone
17.7 in. travel, Fox podium 2.5 shocks w/Live Valve
Double wishbone
14.6 in. travel

, Fox podium 2.0 shocks w/Quick switch 3
Rear
3 Link trailing arm; 15.0 in. travel, Fox podium 2.5 shocks w/Live valve
3 link trailing arm; 15.0 in. travel, Fox podium 2.5 shocks w/quick switch 3
3 link trailing arm; 15.0 in. travel, Fox podium 2.5 shocks w/Live valve
4+ link trailing arm 20.1 in. travel, Fox podium 2.5 shocks w/live valve
Brake
Front: two hydraulic callipers w/250 mm discs; electronic brakeforce distribution (EBD) system
Rare: two hydraulic callipers w/250 mm discs; electronic brakeforce distribution (EBD) system
Tires
Front: 28x9x15
Rear: 28x11x15
Outro
The Honda Talon is a unique product, a work in progress. Over the years since its inception, drivers have noticed problems with its engine, front prop shaft U joint, rear suspension, and front-wheel drive.
Rome wasn't built in a day. Honda has shown their tenacity by making a mark in the automobile industry. We should give the Japanese company some more time.
In a short time, all the issues with the Honda Talon will be resolved. And, this UTV will become one of the best in the industry in no time.
Read more: UTV Vs. ATV Vs. Dirt bike: Which one is the best?