The 6.4L Hemi engine is an efficient and reliable machine capable of powering high-performance vehicles.
This monstrous mechanical powerhouse boasts more than 429ft-lb of torque and a driving output of about 485 hp. The 6.4L Hemi comes with an increased displacement and enhanced variable-cam timing (VCT). It surfaced in 2011 to replace its 6.1L V-8 version. However, this 6.4 Hemi engine still has some problems that some owners may face.
This brief guide will explore the characteristics, life expectancy, and common problems of the 6.4L Hemi engine. Read on!
What Is The 6.4L Hemi Engine?
Overview
The 6.4L Hemi has a similar physical architecture to one of its antecedents, the 5.7 Hemi V-8. Nevertheless, there are some observable differences. For example, they have different stroke lengths and bore diameters.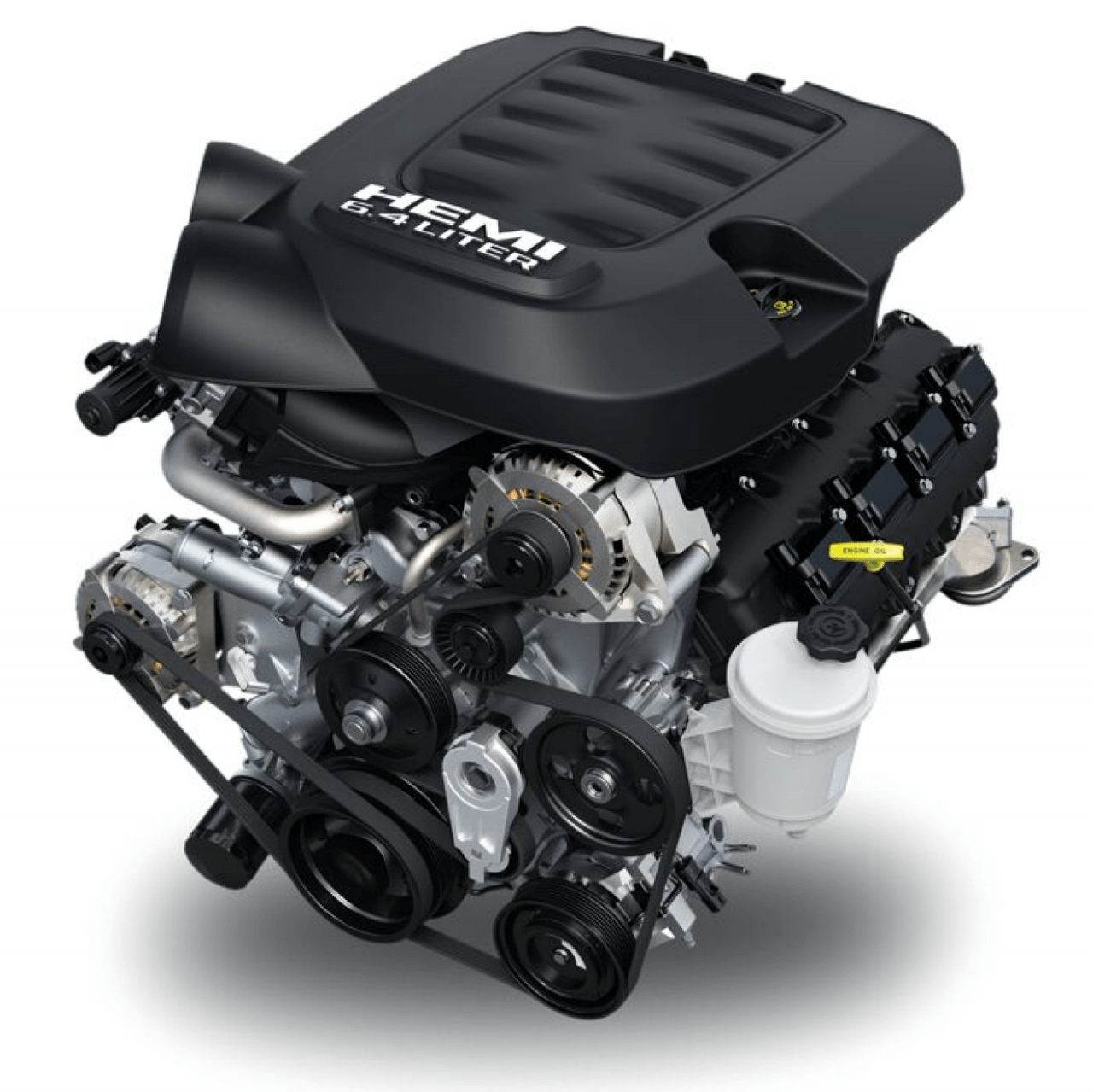 Furthermore, the 6.4L Hemi is equipped with an oil-to-water oil cooler, coupled with an efficient combustion heat removal system.
The oil-to-water oil cooler helps the 6.4L Hemi engine to reduce its temperature in a hot environment. The combustion heat removal network is made up of piston cooling jets.
These cooling jets spray oil on the bottoms of the pistons, thereby setting up a heat exchange mechanism. This setup also increases the lifespan and overall working condition of the machine. The 6.4L Hemi comes with 16 spark plugs and 8 cylinders. There are 2 spark plugs per cylinder.
Therefore, this setup allows for a decent fuel economy, improved combustion, and minimized gas emissions.
The 6.4L Hemi engine has top-notch components including a hemisphere-shaped combustion chamber, Aluminum head, and high-quality cast iron body.
Despite these wonderful features, this machine is not without its problems. It is known to experience tick problems and occasional transmission failure.
Bonus: Dodge Ram 2500 Towing Capacity [2000-2021]
Dodge Ram 6.4L Hemi Specifications
The table below gives a summary of the essential features and specifications of the 6.4L Hemi engine.
Features
Specifications
Cylinder head material
Aluminum
Cylinder block material
Cast iron
Configuration
V
Number of cylinders
8
Fuel type
Gasoline
Fuel system
Sequential multi-port injection
Valves per cylinder
2
Valvetrain layout
OHV
Stroke (in mm)
94.6mm
Bore (in mm)
103.9mm
Displacement (in cc)
6407cc
Internal combustion engine type
Four strokes, naturally aspirated
Compression ratio
10.0:0.1 (for the 6.4L Hemi Ram trucks)
10.9:1 (for the 6.4L Hemi SRT)
Torque
582-644Nm (429-475ft-lb)
Power
273 to 362kw (366 to 485hp)
Firing order
1-8-4-3-6-5-7-2
Dry engine weight
227kg (or 500lbs)
What Cars Have 6.4L Hemi Engine?
Some popular vehicles from Chrysler, Ram, Dodge, and Jeep have the 6.4L Hemi engine. They include:
Ram 2500 (2014 to present)
Ram 3500 (2014 to present)
Dodge Durango SRT (2018 to present)
Chrysler 300C SRT (2012 to 2014)
Jeep Grand Cherokee SRT (2012 to 2020)
Dodge Charger SRT 392, SRT8, R/T Scat Pack (2012 to present)
Dodge Challenger SRT 392, SRT8, R/T Scat Pack (2011 to present)
What Is The Life Expectancy Of A 6.4L Hemi?
The 6.4L Hemi is reliable enough to last for a long time. You should be expecting a maximum mileage of about 250,000 miles from this engine.
Bonus: Dodge 6.4 Hemi vs. 5.7 Hemi vs. 5.9 Magnum: Which One Is The Best?-5-9-magnum/
Ram 6.4L Hemi Engine Problems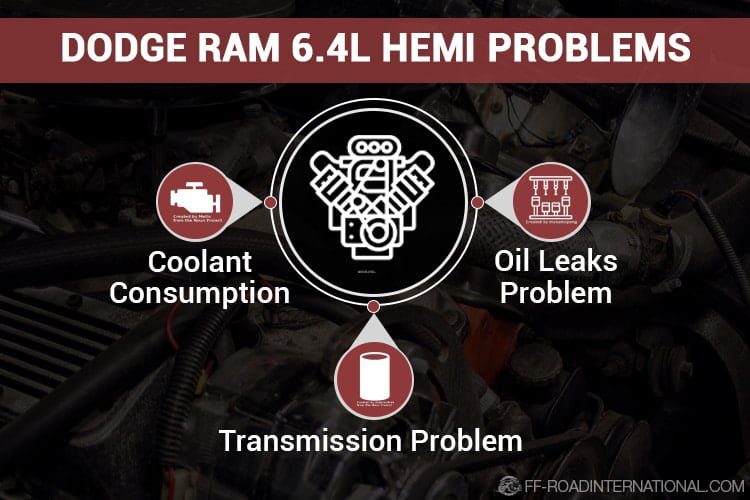 Engine Tick Problem
Engine tick problem on the Hemi 6.4L is a slightly debated topic. Some individuals claim that the ticking noise is normal. They said that it didn't impact the long-term performance of their machine. Conversely, some truck owners have had to replace their 6.4L Hemi due to this same ticking problem.
Symptom
Here are the signs to watch for if you suspect that your engine has a ticking problem.
Check engine light
Audible ticking sounds
Engine misfires
Cause
Several factors can cause an engine tick problem on the 6.4L Hemi. However, the two main culprits are:
Seized lifter rollers
Faulty rollers
The Multi-displacement system (MDS) is a major variable that can result in lifter roller issues. Poor lubricant/oil circulation over the lifter rollers causes them to seize. As soon as this seizure happens, the cam lobes contact the lifter, thereby emitting noticeable engine ticking sounds.
Solution
Your engine will not suffer much damage if you discover this ticking problem early. However, it is almost likely that you will need to replace your camshaft.
If you are not early enough, your oil pump may also need repair or replacement. The worst-case scenario will require you to replace your engine completely.
Read more: 4.7 Dodge Engine Problems
Wrist Pin Issue
The wrist pin problem affected a set of 6.4L Hemi engines manufactured between June and October 2014. Chrysler has taken proper steps to address this challenge on newer engines.
Symptom
The symptoms you might encounter on a 6.4L Hemi with wrist pin issues include:
Cold start knocking
Ticking sounds
Cause
The leading cause was the installation of the wrong wrist pins on 6.4L Hemi engines manufactured between June and October 2014.
Solution
You don't have to worry about this problem if you use a newer version of the 6.4L Hemi. The wrist pin problem has been rectified. However, if you are experiencing any wrist-pin-related issues with your engine, you might need to talk to your dealer about getting a replacement.
Transmission Failure
Transmission issues on the 6.4L Hemi engine depend on the vehicle model. And, transmission failures are more likely to occur on Ram 2500 and 3500 trucks compared to other vehicles.
Symptom
The common signals of a transmission failure include:
Rough/patchy shifts
Clunking noise
Missing gears
Cause
The most reasonable reason for transmission failures on Ram trucks is their rigorous working conditions. Most Ram owners subject their vehicles to regular and heavy hauling over steep off-road surfaces. This activity overworks the transmission system and causes it to wear out.
Solution
You can either rebuild your transmission or get a new one. But don't worry too much. Transmission failures don't usually affect most automobiles.
Conclusion
If you have been thinking of getting a truck with the 6.4L Hemi engine, go ahead. It is one of the best high-performance engines.
Chrysler infused an optimized design into the 6.4L Hemi, making it capable of lasting for hundreds of thousands of miles.
However, this pushrod engine is not perfect. You might experience slight challenges due to transmission failure and engine ticks. Nevertheless, the 6.4L Hemi remains a reliable option.
FAQs
1. Does 6.4 Hemi Need Premium Gas?
The 6.4 Hemi does not need premium gas. Consequently, an octane number of 87 (regular) to 89 (midrange) is sufficient for this vehicle's engine.
2. Can I swap 5.7L Hemi to 6.4L Hemi?
Yes, you can. This swap is possible since the two engines share several things in common. They have the same block, oil pan, and sensors. However, get a professional mechanic to perform this task for you. It might be too complicated to perform by yourself.
3. Is The 6.4 Hemi Good for Towing?
The 6.4 Hemi is powerful enough to tow up to 8000lbs on an occasional basis. However, if you need a more reliable vehicle for regular hauling, get a diesel engine.
4. What fuel mileage does a 6.4 Hemi get?
The Dodge Ram 2500 Hemi 6.4L has an average mileage of 12mpg in a city setting and 15mpg on a highway.
Read more: Ford Edge Towing Capacity [2007 – 2021]
---
Helpful resources: