No Dodge fan is new to the 5.9L Magnum, 5.7L Hemi, as well as the 6.4L(392) Hemi. Initially, Chrysler released the powerful 5.7L Hemi for Dodge Ram vehicles in 2003. In the following years, Jeep Grand Cherokee, and Chrysler 300C also adopted the engine.
The 6.4L Hemi is a naturally aspirated, four-stroke engine built on the 5.4L's architecture. It came onto the scene as a crate engine under the title 392 Hemi. Most truck enthusiasts are familiar with the vintage 5.9L Magnum.
Do you want to know the best of these three mechanical masterpieces? Follow through as we compare their specifications, common problems, and overall reliability.
Dodge 6.4 Hemi vs. 5.7 Hemi vs. 5.9 Magnum: Comparison Chart
The table below shows the specifications and features of the three engines based on certain parameters.
5.7L Hemi
6.4L Hemi
5.9L Magnum
Firing order
1-8-4-3-6-5-7-2
1-8-4-3-6-5-7-2
1-8-4-3-6-5-7-2
Longevity
250,000-300,000 miles
250,000-300,000 miles
200,000-250,000 miles
Weight
~500lbs.
~500lbs.
~600 – 700 lbs.
Pros
Smooth acceleration at mid throttle, More space for fuel combustion
Multi-displacement system for optimized fuel consumption, large engine valve sizes
Good for mid-level to high mileage usage with proper maintenance.
Cons
High cost for maintenance sessions and oil changes,
High combustion heat loss due to its large size, high maintenance costs
Poor fuel consumption, unnecessarily large engine size.
Towing capacity
11,610 lbs.
16,320 lbs.
7,600 – 7,910 lbs.
Reliability/Common problems (listing)
Spark plug misfires
Broken exhaust manifold bolts
Ticking sounds
Multi-displacement system (MDS) failures
Misfires
Transmission failures
Engine tick
Weak front end
Transmission issues
Timing chain failure
Cracked cylinder heads
Plenum gasket leaks
Horsepower
395 hp
485 hp
245 hp
Torque
410lb-ft
475lb-ft
345lb-ft
Price
About US$8,500
US$8,600 – US$10,000
US$900 – US$3,400
Dodge 6.4 Hemi vs. 5.7 Hemi vs. 5.9 Magnum: Detailed Comparison
In this segment, we will examine the 5.9L Magnum, 5.7L Hemi, and 6.4L Hemi in full detail.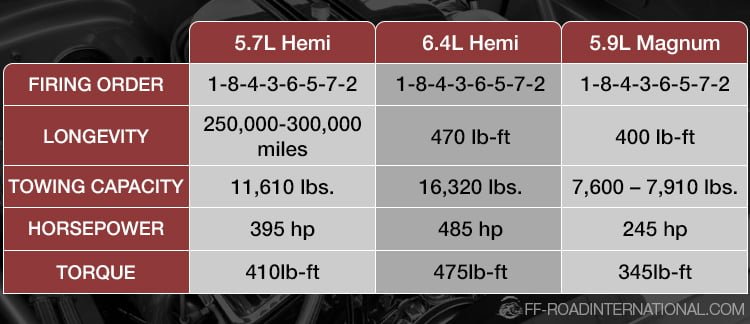 Engine Performance
Winner: 6.4L Hemi
The best engine performance comes from the 6.4L Hemi. It offers an output power of 485 hp and torque of 475lb-ft. However, one significant edge that this machine possesses is its larger displacement and low-end torque.
Its larger displacement means there is more room for combustion. Within four seconds, the 6.4L Hemi can produce an acceleration from 0 to 60mph.
The 5.7L Hemi takes second place in this category. This engine can produce 395hp of thrust and a torque of 410lb-ft. It can produce enough power for both regular commuting and hauling. However, this machine is slightly outmuscled by the 6.4L Hemi due to its smaller displacement.
Don't expect much from the 5.9L Magnum. It has a relatively old mechanical framework. Nevertheless, its maximal engine performance is capped at 345lb-ft and 245hp.
Towing Capacity
Winner: 6.4L Hemi
In this category, the 6.4L Hemi wins hands-down. It can tow up to 17,000 lbs. without any problems. The 5.7L version is not too far behind. It is capable of hauling about 11,610 lbs.
As for the 5.9L Magnum, it can only transport a load weighing a maximum of about 7,910 lbs. To tow more weight with any of these three engines, you can install a fifth-wheel hitch on your vehicle. However, be mindful that your transmission system might wear out at a faster rate.
Longevity
Winner: A tie between the 5.7L Hemi and 6.4L Hemi
It is only possible to estimate the average lifespan of an engine. With proper maintenance and good driving techniques, both the 5.7L Hemi and 6.4L Hemi can hit a distance of 300,000 miles. And, the 5.9L Magnum should be able to reach a mileage of 250,000 miles.
Firing Order
The three engines have the same firing sequence, which is 1-8-4-3-6-5-7-2. The firing order of an engine signifies the arrangement in which power gets delivered to the spark plugs on its cylinders.
Reliability
Winner: 6.4L Hemi
The Dodge 5.7L engine is a solid and efficient engine. Nevertheless, it is not without its problems. The most common complaint is the failure of its exhaust manifold bolts. As a result, you will experience a decrease in power output and acceleration, coupled with poor fuel economy.
Also, a bad exhaust system means that your vehicle can't dispense toxic waste gases effectively. Fortunately, you can replace old exhaust manifold bolts with new ones by yourself.
Other less common challenges with the 5.7L Hemi include engine tick sounds, MDS failure, and spark plug failure.
For more than 10 years, the 6.4L Hemi has been a solid powerhouse that has withstood the test of time. It has proven itself by featuring in flagship vehicles from Dodge, Jeep, and Ram. Nevertheless, no engine is perfect. Some of the 6.4L Hemi's problems include engine tick noise, misfires, and MDS faults.
Due to the fact that the 5.9L Magnum engine is outdated, it comes with a plethora of problems. In fact, this machine is the least reliable among the three engines we are discussing. It is known to have plenum gasket leakages, timing chain problems, transmission issues, weak front end, and cracked cylinder heads.
Pros & Cons
When engine power is considered, the 6.4L Hemi sets itself in a supreme league. Its Multi-displacement technology makes it highly fuel-efficient. This engine can also handle a large amount of cargo. However, its large size means a greater surface area is exposed, thereby leading to high combustion heat loss.
The 5.7L Hemi consumes less fuel compared to the 6.4L Hemi. Furthermore, it can offer excellent handling and smooth acceleration at mid-throttle. But you might not be able to get more power and towing from this machine compared to the 6.4L Hemi.
One advantage of the 5.9L Magnum is that it offers mid-level to high-level mileage, coupled with proper maintenance. However, this engine is old. You might find it difficult to get spare parts for it. Also, the engine has a poor fuel consumption rate for its big size.
Price
Winner: 5.9L Magnum
A 5.7L Hemi engine costs about US$8,500. On the other hand, the price of a 6.4L Hemi stretches upwards to about US$10,000.
As for the 5.9L Magnum, it is really cheap. This is because it has gone out of production since 2003. You can get a used one within a price range of US$900 to US$3400.
Car Models
Below are the names of the classic Dodge vehicles that have utilized these three engines to date.
Which Dodge models have the 6.4L Hemi engine?
Challenger SRT8, SRT 392, R/T Scat Pack (2011 till present)
Durango SRT (2011 till present)
Charger SRT8, SRT 392, R/T Scat Pack (2011 till present)
Which Dodge models have the 5.7L Hemi engine?
Durango (2004–2009, 2011 to date)
Magnum R/T (2005–2008)
Charger R/T (2006–present)
Challenger R/T (2009–present)
Which Dodge models have the 5.9L Magnum engine?
Durango (1998-2003)
Ram (1992-2002)
Dakota (1998-2003)
Ram Charger (1992-2001)
Ram Van & Wagon (1992-2003)
Conclusion
The 6.4L Hemi is the best among the three engines that we have considered. If you want top-notch performance from your Dodge truck, go for the 6.4L Hemi. It delivers sufficient power, great reliability, and optimized fuel consumption. Perhaps, you might want to go a bit below the bar due to budget reasons. In that case, go for a 5.7L Hemi.
Or, do you want a taste of a classic engine for a lower price? Then try out the 5.9L Magnum.
Read more: 5.7L Hemi Engine Longevity: Is It a Reliable Engine?