Chrysler 8.25, Dana 35, and Dana 44 are the three most popular rear axles found in vintage Jeeps and other classic vehicles.
Reviews and online forums have revealed that most diehard auto fans favor the Dana 44. This discovery is not without a solid reason.
In this write-up, we will compare these three rear axles and discuss their attributes board to board.
Chrysler 8.25 vs Dana 35 vs Dana 44: What Are They?
Before we begin any comparisons, it will be great for you to have a brief description of each of the three axles.
What is Chrysler 8.25?
The Chrysler 8.25 is also known as the corporate 8.25. This rear axle comes in different configurations. Pre-2005 models of this axle come with 27 spline axle shafts. On the other hand, newer editions have 29 larger splines steel star axle shafts, coupled with metric ring gear bolts.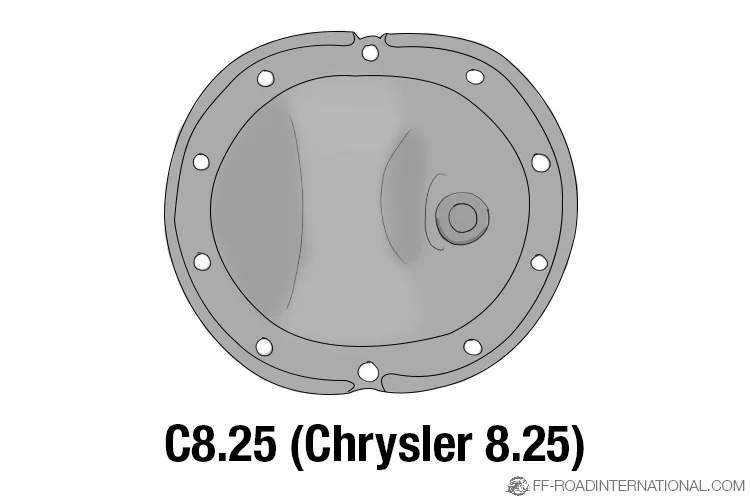 Three distinct features of the Chrysler 8.25 include its elliptical cover, the fill plug beneath its midline, and 10 cover bolts. This mechanical motor part has weak c-clips, similar to the Dana 35. The role of the c-clips is to keep the axle shaft in place.
What is Dana 35?
Dana holding corporation produced this self-propelling axle in 1985 when they purchased the American Motors Corporation (AMC)'s axle tooling equipment. This rear axle has 26 pinion shaft splines and a 7.5-inch ring gear.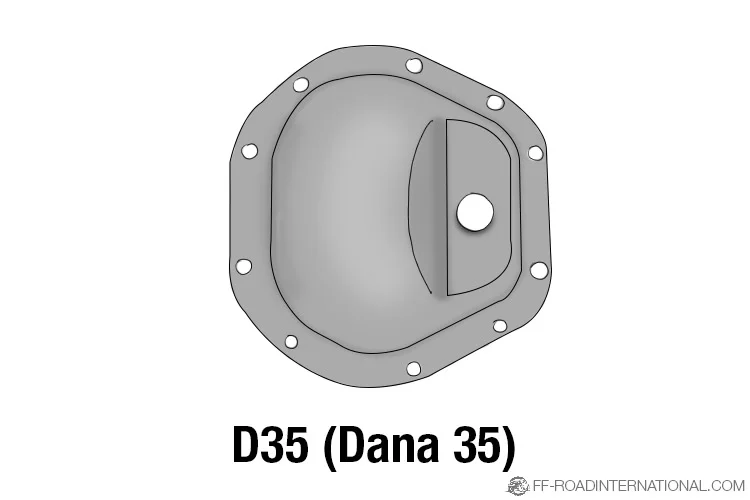 Also, Dana 35 (also known as Spicer model 35) was previously called an AMC-15 during its previous release in 1962. It is common to find this mechanical masterpiece in flagship vehicles like the Ford Ranger, Jeep Wrangler, and Jeep Comanche.
What is Dana 44?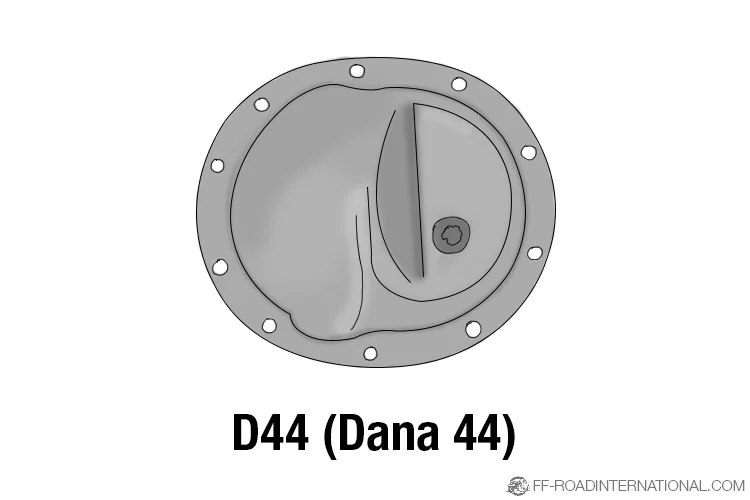 The Dana 44 (Spicer model 44), just like the Dana 35 is a self-propelling axle produced by Dana holding corporation. It has a hexagonal-shaped metal cover and 30 splines. The first Dana 44 was manufactured in the 1940s. Fortunately, it is still in production today, and many modern-day automobile manufacturers love to use it.
Read more: Lucas Vs. Seafoam Vs. Chevron Techron
Chrysler 8.25 vs Dana 35 vs Dana 44: Comparison Chart
| | | | |
| --- | --- | --- | --- |
| | Chrysler 8.25 | Dana 35 | Dana 44 |
| Tube diameter | 3 inches | 2.6 inches | 2.6 inches |
| Ring gear | 8.25 inches | 7.62 inches | 8.9 inches |
| Axle shaft | 27 spline/ 1997 and recent 29 spline | 27 spline and a 1.18-inch diameter | 30 splines and a 1.31-inch diameter |
| Pinion shaft spline | 27 | 26 | 26 |
| Inner axle shaft spline | 28 | 27 | 10,19,29,30,32,33 and 35 |
| Carrier break | 2.45 – 2.76 and 3.07 – 4.11 | 2.21 – 3.31:1 and 3.55 – 4.88:1 | 2.72:1 – 3.73:1 and 3.92 – 5.89:1.6.17:1 |
| Rear-axle ratios | 3.21 – 4.88 | 2.21:1 – 4.88:1 | 2.72:1 – 5.89:1 |
| Strength | ✔✔✔ | ✔✔ | ✔✔✔✔✔ |
Chrysler 8.25 vs Dana 35 vs Dana 44: Detailed Comparison
There are several general attributes that differentiate the Chrysler 8.25, Dana 35, and Dana 44. They have different strengths, dimensions, and capabilities in the off-road world. Now, we will talk about their characteristics in full detail.
Axle Tube Diameter
The Dana 35 and Dana 44 have a tube diameter of 2.6 inches, which is relatively small. On the other hand, the Chrysler 8.25 has a 3-inches tube diameter. It is important to know your truck's axle tube diameter. If you need to install a lift kit or any similar modification on your vehicle, this dimension will be required.
Ring Gear
Dana 44 has the longest ring gear diameter which measures 8.9 inches. Conversely, the diameters of the ring gears used on Chrysler 8.25 and Dana 35 are 8.25 and 7.62 inches respectively. A ring gear serves as a covering for the torque equalizing differential train of an axle. Therefore, the size of the axle differential train depends on the ring gear diameter.
Axle Shaft
The axle on the Chrysler 8.25 is larger and thicker than that of the Dana 35 (D35). However, experts have revealed that the 27-spline axle shafts seen on the pre-1997 8.25 are weaker than the D35 axle shafts. The 29-spline 1997-present 8.25 is much stronger than D35. The Dana 44 has 30 splines and a shaft diameter of 1.31 inches.
Pinion Shaft Spline
The Chrysler 8.25 has 27 splines in its pinion shaft. Conversely, the Dana 35 and Dana 44 both have 26 splines. One extra spline doesn't seem to make much difference. However, you will notice a different feel if you are riding on big tires with the Chrysler 8.25.
Inner Axle Shaft Spline
The inner axle shaft spline is used to permit a differential to rotate the shafts and supply motion. The Dana 44 has a large inner shaft spline range which gives it an edge over the D35 and Chrysler 8.25.
Carrier Break
Carrier break refers to a point at which a new carrier will be needed. The Dana 44 lasts for a long period before any carrier breaks occur. This is why it is preferred by most automobile manufacturers.
Rear-axle Ratio
This ratio has an effect on the towing capacity or fuel economy of a truck. The Dana 44 gives vehicles a greater axle ratio, compared to the Dana 35 and Chrysler 8.25. Consequently, vehicles with Dana 44 have a better hauling capability.
Strength
In terms of strength, Dana 44 is the most powerful while Dana 35 is the feeblest. The Chrysler 8.25 stands between both of them.
Chrysler 8.25 vs Dana 35 vs Dana 44: Pros and Cons
Each of the three rear axles has its strengths and weaknesses. The table below depicts this piece of information.
Chrysler 8.25
Dana 35
Dana 44
Pros
Relatively cheap

Available in fixed axles and independent suspension
Easily adapt to most bolt patterns.
Affordable.
Cons
Difficult to change shafts in the case of damage
Aftermarket parts are difficult to find
Heavy
Its c-clips are weak
Not durable, especially when running tires over 35It has a small axle and shaft
Chrysler 8.25 vs Dana 35 vs Dana 44: Which Tires' Size Can They Handle?
Chrysler 8.25
The Chrysler 8.25 can support tires between the range of 33″-35″.
Dana 35
The dana 35 can handle tires up to the size of 31". Anything above that can damage the mechanical network of your axle shaft.
Dana 44
The Dana 34 utilizes tires as big as 36". Nevertheless, your driving technique, engine power delivery, and vehicle weight also affect the size of the tire compatible with this rear axle.
What Vehicles Have These Three Axles?
The table below gives the names of some vehicles equipped with either of the three axles.
| | | |
| --- | --- | --- |
| Chrysler 8.25 | Dana 35 | Dana 44 |
| Jeep Grand Cherokee 2005-2010 | Jeep Wagoneer 1984-1997 | Jeep Wrangler Rubicon 2003-2014 |
| Jeep XJ Cherokee 1991-2001 | Jeep Comanche 1986-1992 | Jeep Grand Cherokee SRT8 2006-2010 |
| Dodge Dakota 1987-2004 | Jeep Cherokee 1984-2001 | Jeep Wrangler "LJ" Unlimited 2004-2006 |
| Dodge Ram 1500 1994-2004 | Jeep Grand Cherokee 1993-2004 | Jeep Wrangler 2007-2015 (optional on 2007, standard on 2008-present) |
| Dodge Ram 2500 1997-2001 | Jeep Liberty 2001-2007 | |
| | Dodge Dakota 1997-2000 | |
FAQS
1. Is the Chrysler 8.25 limited slip?
Yes. This is a limited-slip axle.
2. Can a Chrysler 8.25 handle 37s?
Of course. It can support 37s.
3. Will 4.56 gears fit in a dana 35?
Yes, 4.56 gears can fit into a Dana 35.
Sum Up
Without any doubt, the strongest option among these three rear axles is Dana 44. It has a bigger differential and powerful axle shafts. Consequently, this mechanical masterpiece has proved its durability and strength since its production in the 1940s.
If you need an axle support system for your classic Dodge or Jeep, the Dana 44 should be on the top of your scale of preference.
Then, the Chrysler 8.25 should follow, thanks to its cost-effectiveness and solid reputation. As for the Dana 35, it is also sturdy and popular. However, it does not perform well in off-road conditions.
Read more: Chrysler 3.8L V6 Engine Problems: Is It A Good Engine?