If you're hitting the market for a 3.5 EcoBoost engine, one of the features you'll most consider is its life expectancy. No one wants to buy an engine that will age in a few days or after hitting just a couple thousand miles.
So, the big question remains; How many miles can you put into the 3.5L EcoBoost engine? Will it be a reliable engine after all?
This article has all the information on the 3.5L EcoBoost engine's longevity and tips on extending it. Stick around!
What is the 3.5L EcoBoost Engine?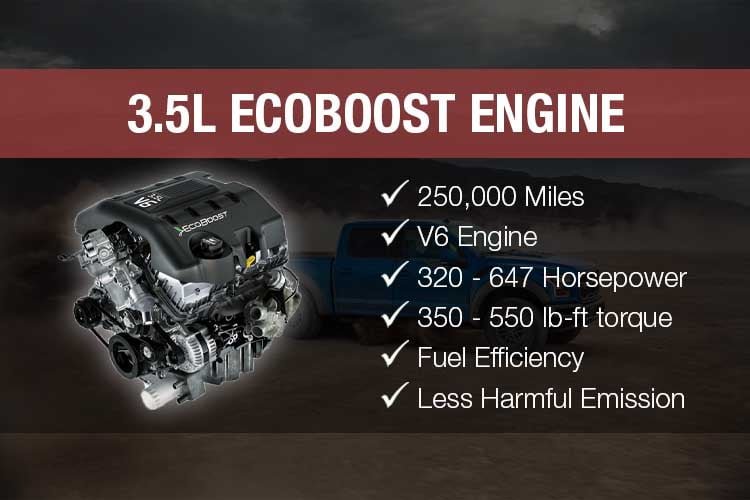 The 3.5L EcoBoost is a V6 engine, first introduced in 2007. It came under the name TwinForce. Aiming at providing a solid alternative to large-displacement V8 engines, the 3.5L EcoBoost focuses most on power output. The newer turbocharged 3.5L EcoBoost provides just as equal power and torque as a 6.0L V8!
3.5L EcoBoost engines produce 320-647 horsepower and 350-550 lb-ft torque, depending on the design and YOM. Moreover, it offers improved fuel efficiency and less emission of harmful substances.
The output of the 3.5L EcoBoost engine has overseen its use in popular car brands like the Ford F-150. It is one of the best engines you can ever use in recent times.
What Cars have the 3.5L EcoBoost Engine
First Generation
2015 Ford Transit
2010-2012 Ford Flex
2010-2012, 2013-2019 Lincoln MKT
2012-2012, 2013-2016 Lincoln MKS
2010-2019 Ford Taurus SHO
2013-2019 Ford Interceptor Sport
2013-2019 Police Interceptor Sedan
2016-2019 Ford Interceptor Platinum
2014-2019 Ford Police Interceptor Utility
2013-2019 Ford Flex
2015-2017 Ford Expedition/Expedition EL
2011-2016 Ford F-150
2015-2017 Lincoln Navigator/Navigator L
Second Generation
2021 Ford F-150 & F-150 Powerboost Hybrid
2017-2020 Ford F-150
2018 Ford Expedition & Ford Expedition Platinum Series
2017-2020 Ford GT
2019-2020 Ford F-15- Limited
2017 Ford F-150 Raptor
2018 Lincoln Navigator
Most Reliable 3.5L EcoBoost Engine Years
The 2018 model has been a favorite since it offers more power and numerous key features. Moreover, it lacks the engine problems previous models had. 3.5L EcoBoost engine models from 2017 to date are considered to be highly reliable.
Most Unreliable 3.5L EcoBoost Engine Years
The years that customers felt that the 3.5L EcoBoost engine didn't live up to their expectations were 2011, 2013, and 2015.
In 2011, the engine had a surprisingly high number of issues, including loss of power and engine stalling. In 2013 and 2015, the main problem surrounded the valve cover adapter but was easy to repair. Some users of the 2013 & 2015 3.5L EcoBoost reported experiencing smoke from their exhaust.
What is the 3.5L EcoBoost Longevity?
With the industry-recommended level of maintenance, the 3.5L EcoBoost Engine can take you more than 250,000 miles. However, the figure is only given when you don't make any huge modifications or alterations that may affect its lifetime. Some users report going more than 250,000 miles and claim that it is all down to proper maintenance.
Here are some tips on how to increase the EcoBoost 3.5L engine's lifespan.
How to Extend the 3.5L EcoBoost Engine Lifespan
If you want to extend your engine's lifespan, you should do a couple of maintenance practices. Some of these include;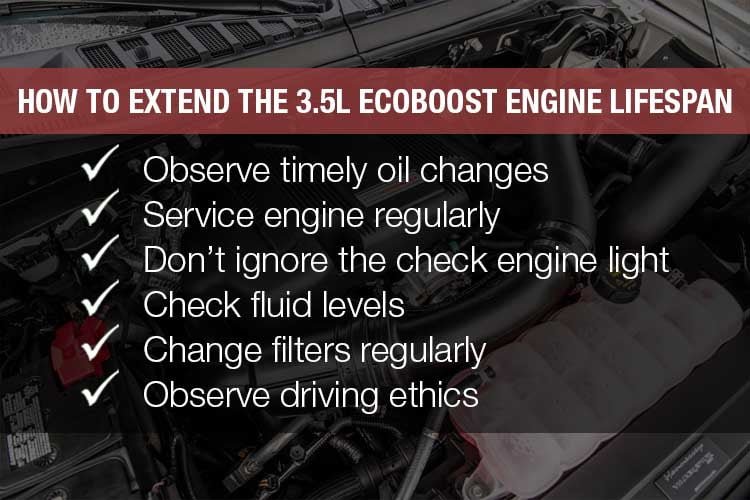 Observe Timely Oil Changes
It is advisable to change your engine oil after approximately hitting 5,000 miles. The oil change should be done at regular intervals of the recommended mile range or anything lesser than that. Frequent oil change reduces the friction within the internal engine parts and makes them less prone to wear.
Service Your Engine Regularly
You should make consistent stops at service bays to have your engine checked by professionals. That is because your engine might be harboring complications without your consent. A repair now is better than a repair later.
Don't Ignore The Check Engine Light
If the Check Engine light pops up after ignition and doesn't turn off, then there might be a problem with your engine. It is advisable to pull over at the nearest service station to have it checked.
Check Fluid Levels
Apart from the engine oil, other fluids like brake fluid and radiator fluid are imperative to maintaining the longevity of your engine. They should be kept at recommended levels, so you might want to check them before starting the engine. These fluids help to prevent the engine from overheating, which greatly reduces its life expectancy.
Change Your Filters Regularly
You should regularly observe your oil, air, and fuel filters for dirt or damages. The fuel filters prevent the entry of debris into the combustion chambers, which might be severely harmful to your engine. Likewise, oil filters put away dirt from the oil transmission systems.
Air filters, on the other hand, regulate airflow into the engine block. When air filters are blocked, we do not have enough air in the valves. That causes your car's engine to burn more fuel to compensate for the lack of adequate oxygen. The problem amounts to a lack of fuel efficiency in the long run, and the strain in the engine's combustion reduces its lifespan.
Generally, it is advised that you regularly check your filters for any problems and replace them if need be.
Observe Driving Ethics
Don't accelerate to a hard stop or stretch the engine past its maximum rpm ratings. Again, always take short trips and let the engine cool down before the next. Overworking your engine will most probably be the main reason it ages quickly.
Outro
An engine's longevity is one feature everyone considers when making a vehicle purchase. We all want to rack an upward of 200,000-250,000 miles, and the 3.5L EcoBoost engine does exactly that. However, it is important to adhere to all routine maintenance practices to achieve that milestone and more.
Again, since the 3.5L EcoBoost is specially made for power and output, it would be best to keep it at low rpm to avoid overworking it.
Read more: 5.7L Hemi Engine Longevity: Is It a Reliable Engine?