Bedliner spray protects your truck's paint from scratches, dings, and dents; they keep your cargo from sliding around in the back; and they give your truck a rugged look.
But when it comes to choosing the right bedliner for your needs, there are many different types on the market today. Two of the most popular brands are Raptor Liner and Line-X. Both of these products have their own unique set of features and benefits.
In this article, we will compare the Raptor Liner and Line-X, and contrast these two brands in order to help you decide which one is right for your vehicle.
What Is Truck Bedliner Spray? Why Is It Needed?
Truck beds face a lot of abuse and need extreme care to last long. You can protect the truck by using a bed liner spray. These sprays act as a protective coating, which enhances the durability as they form a strong barrier.
The truck bedliner sprays can withstand both physical abuse and extreme weather conditions equally well. Moreover, its application is simple. It protects your vehicle bed from dents due to the bed liner's hard yet tensile cushioning effect. It helps in dispersing the pressure, which flexes the surface and minimizes the damage.
While applying a truck bed liner, you need to be very cautious and perform it carefully. The bed liner spray adheres well only when you prepare it appropriately to facilitate good clinging to the surface. Cleaning and sanding are the basic requirements first. Applying a primer will drastically enhance its adherence.
The best bed liner sprays preferred by many truckers are Raptor liner and Line-X bed liner sprays.
Bonus: AT205 Reseal Vs. Blue Devil
Raptor Liner vs. Line-X
Here is an overall comparison of Raptor liner vs. Line-X for their features, price range, along with pros and cons.
Raptor Liner
Line-X
Durability
Durable for normal wear and tear but not as strong as Line-X
Extremely durable with the ability to withstand heavy-duty abuse
Price
Cheaper
More expensive
Benefits
For DIY so saves you a fortune on installation charges and also gives you the satisfaction of doing it all by yourself
Provides good resistance and impact reduction
Provides excellent abrasion resistance and reduces the impact even in extremely harsh conditions
Drawbacks
Has a certain limit which is less than Line-X but more than the challenge posed by many normal activities
Must be installed professionally and also its installation charges add up to the expenses
There are several non-comparable aspects of these two liners which you need to know to have a complete picture of what they have to offer. Please find the in-detailed description below to understand what advantages they offer.
Raptor Liner – Best For DIY
Raptor liner shielding will keep your truck bed as good as new even after several years as it creates an effective barricade. It is available on Amazon as kits, and you can purchase depending on your needs. Once you finish coating, it dries into an ultra-hard and tough coating that does not allow any scratches, rust, or chipping.
Advantages Of A Raptor Liner
Previously plastic moulds were used in protecting the truck beds from wear and tear. However, they needed exceptional manufacturing, had high shipping costs and even reduced the cargo space due to their bulk. Many could not afford it, and it even seemed to be an uneconomic solution. On the other hand, the Raptor liner comes in an easy-to-ship bottle that is comfortable transporting and applying.
Since it is a spray formula, it takes the truck bed's exact shape and does not eat up the cargo space. Also, you can use dye pigments to change the colour of the coating for aesthetic purposes. The raptor liner is useful in several other ways where you want to protect the surface from deterioration. It effectively protects floors, vehicle surfaces, and similar highly used places or things from easy abrasion. Also, it counters the effects of weather effectively.
How Much Can One Raptor Bed Liner Gallon Cover?
According to Raptor Liner, one gallon of RAPTOR bed liner will cover approximately 60-85 square feet per two coats. This is enough to cover the entire bed of a standard-size truck (6′ to 8′).
However, Raptor has many different types of Raptor Bedliner in terms of capacity. Look at table below to have an overview of each prouduct:
Product
Product Code
Capacity
Size of Bedliner
1 US Quart Raptor Kit
UP4801/ UP4802/ UP4803/
UP4804/ UP4805/ UP4806
1 sprayable quart
30 square feet
Raptor Liner Kit – 1 US Gallon
UP0820/ UP0821/ UP4807/
UP0820V/ UP0821V/ UP4808/
UP0825/ UP0829
1 US gallon
125 square feet
5 Liter RAPTOR Pails
UP485/ UP4851/ UP4824

5 sprayable gallons
625 square feet
200 Liter RAPTOR Drums
UP4870/ UP4871/ UP4873/
UP4874
200L
—
How Much Raptor Liner To Paint A Whole Truck?
If you're looking to give your truck a makeover with RAPTOR bed liner, you may be wondering how much of the product you'll need. After all, you want to make sure you have enough to cover the entire truck bed – but you don't want to waste any either.
Here's a quick guide to help you estimate the amount of RAPTOR liner you'll need for a full coverage job on your truck:
– For a standard size truck bed (6′ to 8′), you'll need approximately 3 gallons of RAPTOR liner.
– For a larger size truck bed (8′ to 10′), you'll need approximately 4 gallons of RAPTOR liner.
– For an extra large size truck bed (10′ to 12′), you'll need approximately 5 gallons of RAPTOR liner.
Keep in mind that these are just estimates – the actual amount of RAPTOR liner you'll need may vary slightly depending on the size and shape of your truck bed. But in general, these guidelines should give you a good idea of how much RAPTOR liner you'll need to complete the job.
So now that you know how much RAPTOR liner you'll need, it's time to get started on your truck bed makeover!
---
Below are some comments about Raptor Liner products:
"I did a lot of research and chose Raptor. Line-x is more durable but much more expensive. I'm a DIY guy and wanted to do it myself. Everyone that sees it thinks it looks great."
Jamborick – https://www.jeepforum.com/threads/linex-vs-raptor-liner.1532859/
"Line-X vs Raptor Liner is a apples to oranges comparison. Line-X is sprayed on at high temperatures and is not even close to a DIY product and never will be. Raptor is totally DIY compatible."
NotURMailman – https://www.jeepforum.com/threads/linex-vs-raptor-liner.1532859/
---
Read more: Lucas Vs. Seafoam Vs. Chevron Techron
Line-X – Get Your Money's Worth
If you want to keep your truck bed as good as new even after using it for years, then you should consider installing Line-X on it. Its heavy-duty standard is capable of withstanding arctic cold or searing heat. Line-X is engineered with tough polymers to give you supreme performance.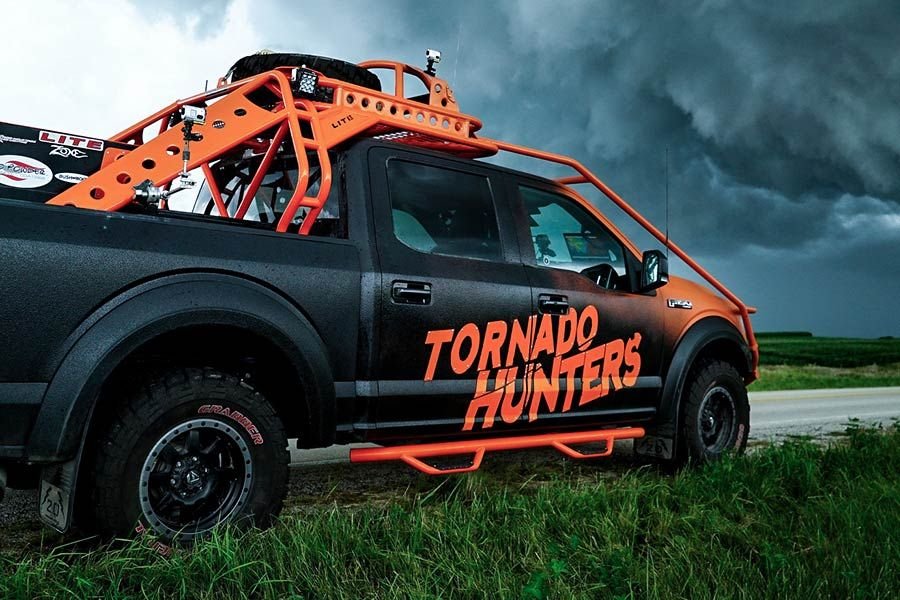 Line-X offers six kinds of protective liners. They are Platinum, Premium, Standard, Xtra, Pro and Renew.
Standard: It is a protective coating from corrosion, abrasion, and rust. Suitable for both casual and work-related uses.
Xtra: You can have the standard protection in a chosen color.
Premium: In addition to both, you get UV protection and provide the new-looking ability for a lifetime.
Platinum: Along with all the above, it offers resistance to UV rays and a protective coating with 300% more toughness for withstanding extremely abusive usage.
Renew: Repair any spray-on bedliner to new quality.
Pro: Sprayed-in bedliners provide permanent protection against dents, scratches, chips and UV fading. They also improve the look of your truck while adding resale value.
Moreover, Line-X coating is a revolutionary new way to protect any exterior or interior of your car. As an easy spray-on, it will seamlessly adhere and be durable for years without being noticed – making it perfect if you want something that can last through weather conditions. The Line-X can cover your vehicle's every corner, such as rocker panels, hoods, accent stripes, tubs, dash panels, floorboards, etc.
Advantages of Line-X
This bedliner spray is put to the test in real-world situations and lab test conditions to check their strength and protection level in a harsh environment. Thus, the manufacturers ensure to provide you with durable and the highest possible defensive mechanism levels. The Line-X sprays come with high-level tensile strength, which allows them to stay intact despite rough usage. It gives unmatched guarding against tears, rips and gouges where the competitive sprays fail due to their soft nature.
Another advantage of Line-X is clinging well to every curve and angle that keeps your bed space available for the cargo. This feature gives it a factory-like finish that bonds permanently along with forming a watertight seal. Since there are no drill holes or airgaps, it leaves no chance for rust. Compared to a bare truck bed or a pre-manufactured liner, it offers lesser noise while travelling with goods.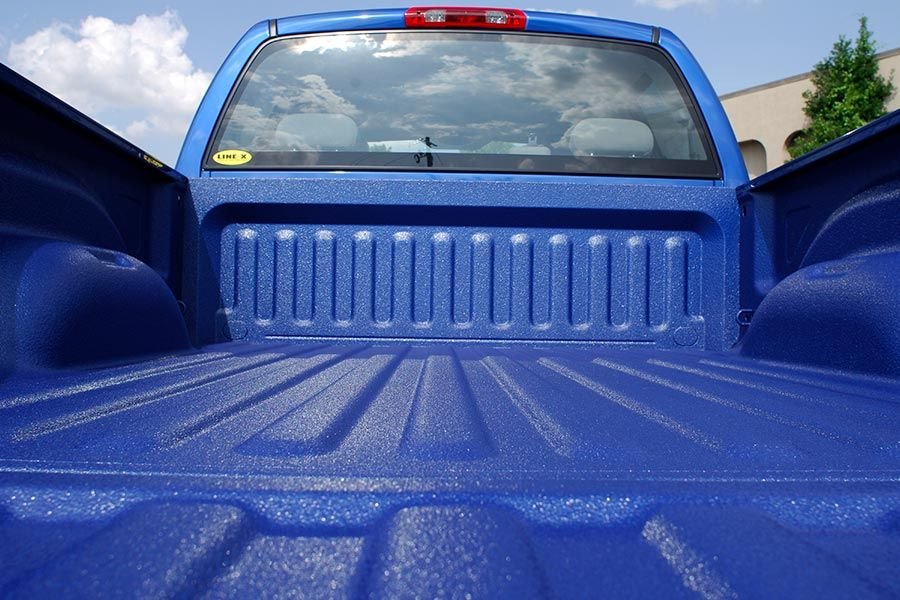 As it gives rough texture to the surface, the cargo does not shift from place to place, absorbs the impact well, and effectively muffles the sound. Along with being corrosion resistant, it also offers protection from bleach, chlorine, household solvents, and similar daily use liquids. Most importantly, they provide high appraisal value when you sell the truck.
There are some opinions showing that Line-X is worth every penny:
---
"Line-X is far better and is more expensive. But, you get what you pay for. I have it and love it."
JBTJ – https://www.jeepforum.com/threads/linex-vs-raptor-liner.1532859/
"I line-x'd my fenders and the inside of my tub. Holds up a hell of a lot better than raptor… You get what you pay for."
Lonewolf42 – https://www.jeepforum.com/threads/linex-vs-raptor-liner.1532859/
---
Which One Is Better? Raptor Liner Or Line-X
Applying truck bed liners can be done using sprayers, brushes, or rollers. Spraying is the most effective method as it gives an even coat. Brush and rollers may give uneven thickness, and the thicker places may turn out to be soft, which further allows breaches in protection.
So, what is the verdict? Which one should you choose – Raptor Liner or Line-X?
At the end of the day, it really depends on your specific needs and preferences. If you're an DIY and looking for something that is more affordable and easier to apply, then Raptor Liner is probably the way to go. On the other hand, if you're looking for something that is more durable and can withstand more wear and tear, then Line-X is the better choice.
Whichever product you decide to take, make sure you do your research and choose the option that is best for your vehicle.
Read more: Por 15 Vs. Chassis Saver: What Is The Best Rust Preventive Coating?
---
Helpful Resources:
https://www.jeepforum.com/threads/linex-vs-raptor-liner.1532859/
https://www.tacomaworld.com/threads/line-x-vs-raptor-liner.717888/
https://www.motoraudit.com/raptor-liner-vs-linex/
https://www.raptorliner.com/