While other companies are struggling to offer all-drive electric cars and trucks, Nissan only perfects on the basics. A rigid frame, ample ground clearance, good wheels, and a rigid body. All these come at a bargain price of around $20,000.
Different cars/trucks have different payload and towing capacities, and it all goes down to different vehicle specifications. This review will look into the Nissan Xterra and the freight and Towing capabilities of its most popular models from 2000 to 2015.
2000 – 2015 Nissan Xterra Towing Capacity and Payload Chart
This is a tabular representation of the towing capacity of Nissan Xterra models from 2000 to 2015.
Year
Engine
Maximum
towing
capacity (lbs)
Payload (lbs)
2000
2.4L I-4
3500
N/A
2000
3.3L V6
5000
N/A
2001
3.3L V6
5000
1250
2002
3.3L V6
5000
1250
2003
2.4L I-4
3500
1250
2003
3.3L V6
5000
1250
2004
3.3L V6
5000
926
2005
3.3L V6
5000
1058
2006
4.0L V6
5000
1138
2007
4.0L V6
5000
1138
2008
4.0L V6
5000
1138
2009
4.0L V6
5000
1138
2010
4.0L V6
5000
881
2011
4.0L V6
5000
881
2012
4.0L V6
5000
1043
2013
4.0L V6
5000
989
2014
4.0L V6
5000
989
2015
4.0L V6
5000
989
Nissan Xterra Overview
The Nissan Xterra is not one of the most popular off-road cars out there, maybe because the model was later discontinued in 2015. Nonetheless, the Xterra has pretty decent offroading capabilities that give it a cut above most of these other SUVs you see to date.
For instance, the Xterra's ground clearance, supercharged turbo engine, and rugged body are some of the most outstanding features that make it suitable for almost any offroad activity.
Let's look into Nissan Xterra towing and payload and towing capacities in their 2000-2015 models.
Xterra Towing Capacity and Payload
2000 – 2003 Nissan Xterra Models
This is the first generation of the Nissan Xterra model cars and SUVs.
The 2000-2003 Nissan Xterra models came with two towing capacities; 3500lbs for manual transmission engines and 5000lbs for the automatic variants. But, unfortunately, we only had the 2.4L 4-cylinder KA24DE engine and the VG33E/VG33ER/170-hp 3.3-liter SOHC V6 engines.
The former only had a manual transmission system and had a towing capacity of 350lbs.
It seems like the 2000 Nissan Xterra couldn't carry much weight, but then the 2001-2003 models gave a payload capacity of 1250lbs, the highest value within the 10-year range.
2004 – 2005 Nissan Xterra Models
The towing capacity of the 2004-2005 Nissan Xterra models is the same, regardless of whether you use a 2WD or 4WD vehicle. This is because all the Xterras had a 3.3L V6 engine and a towing capacity of 5000lbs. Moreover, other features like tongue weight stood at around 500 pounds for the Xterra models within this year's range as the cars had high similarities.
Payload is slightly lower than the previous models, maybe due to the economy utilizing raw materials during production.
2006 – 2015 Nissan Xterra Models
The Nissan Xterra models within this range are of the most recent generation, following the discontinuation of production of the Xterras in 2015. However, these vehicles were pretty much solid, all with a towing capacity of 5000 pounds. Furthermore, all the Xterras within that period come with 4.0L V6 engines and a constant towing capacity of 5000 pounds. As a result, the payload capacity from 2009 to 2015 is slightly lower than in the previous models, which all handled more than 1000 lbs.
What Affects Towing Capacity?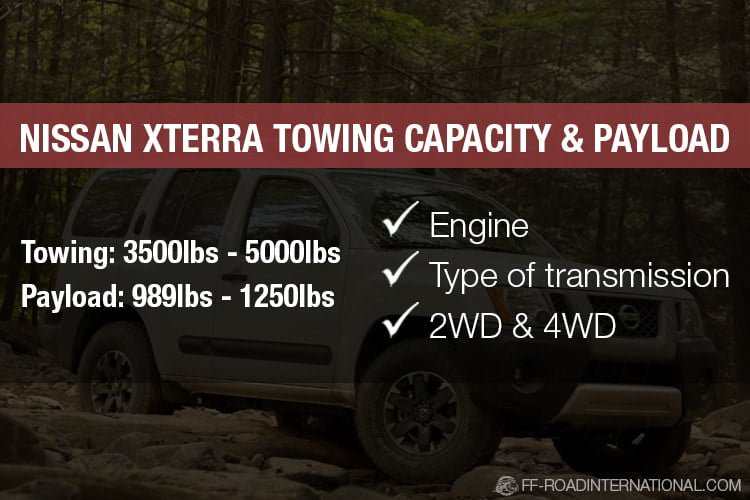 Engine
We will come across a 2.4L KA24DE 143hp I4 engine, a 3.3L VG33E (170hp and 180hp) V6 engine, and a 4.0L VQ40DE V6 across the entire Nissan Xterra generation.
The first, 2.4L I4 engine, is mainly found in the 2000 Xterra model, and the other two are popular among the newer models.
Engine sizes determine the amount of power your car receives, and eventually, the differences lead to towing capacity variations.
The 2.4L KA24DE had an output of 143 horsepower, a little low compared to 170 and 180 hp on the more-current Xterra models. Therefore, you'd expect to have a higher towing capacity on the V6 than the I4 engine.
Type of Transmission
Transmission types significantly affect towing capacity in cars. For example, the Nissan Xterra car models either come with manual or automatic transmission.
We have two different types of transmission on the Nissan Xterra, a Manual Transmission and an Automatic Transmission. The Manual Transmission models on the Xterra offer a 3500lb towing capacity, while those on Automatic Transmission edge their counterparts by giving a 5000-pound towing capacity.
Moreover, most automatic transmission vehicles come with a TowHaul mode that optimizes shift points, making towing more hassle-free.
2WD Vs. 4WD
Towing capacity is not affected by either a 2WD or a 4WD. All Nissan Xterra models have the same tow capacity. Only the 2000 2.4L I-4 and 2003 2.4L I-4 models recorded a towing capacity of 3500lbs while all others came with a 5000-pound towing capacity.
Nonetheless, it would be worth the investment if you can go for a 4WD Nissan Xterra model. You'll be able to get better traction in muddy and snowy terrain than if you had any of the 2WD models.
---
Recommend Trailer Hitches For Nissan Xterra
Final Thoughts
One fascinating feature of the Nissan Xterra is its towing ability. The first-generation Nissan Xterras have an upward of 3500lbs, with the V6s all having a 5000lb capacity. Every other Nissan Xterra car after then came with a 5000lb towing capacity. The payload is pretty decent, too, as you get close to 1000lbs on the latest Xterra models. Therefore, if you'd like to go off-roading and need to tow a trailer, it is essential first to determine the towing capacity of your SUV to prevent messing up your car or cargo.
Read more: Ford F150 Towing Capacity [1994 – 2021]